5 Best Foot Fetish Erotica Reading Guide
Do you have a Foot fetish? The best way to satisfy your Foot fetish is by reading Foot Fetish erotica. This guide help you better find resources to help you read best Foot Fetish Erotica novels or books or other ways to satisfy yourself.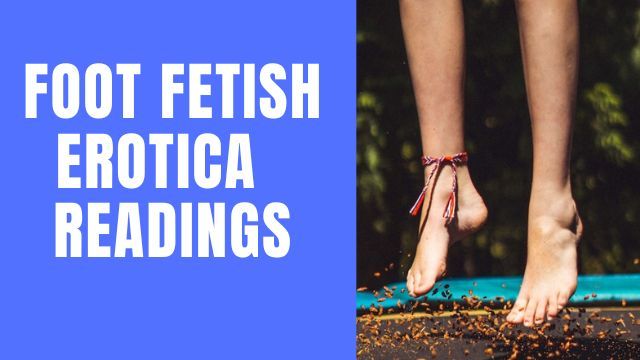 Foot Fetish Erotic stories are everywhere. There is a reason why some people prefer reading erotic stories to watching erotic movies. Stories stir your imagination! The world is packed with sexual standards, and more and more people are opening up about their fetishes.
This has increased the need for people to bring their fantasies to life. For someone with a foot fetish looking to get aroused off something steamy, the first suggestion is to visit a porn site. However, not everyone likes porn. And that is okay. Sometimes porn videos get boring, especially when the actions and scenes appear repetitive.
If you have Foot fetish, one way to satisfy your Foot fetish is to read erotica related to Foot fetisim.
What Is A Foot Fetish?
Foot fetish is a strong sexual attraction to feet. Podophilia is another name for foot fetish. If you are reading this, you probably found your way here because you are interested in feet in some way.
If that interest is purely sexual, that makes you a foot fetishist. Foot fetishism is not a taboo and is gaining more acceptance amongst fetishists and non-fetishists. Likewise, it is not restricted to heterosexual sexual relations.
Foot fetish is harmless and can be very intriguing for those with it. Just like some people prefer a particular position during penetrative sex, so do foot fetishist interests differ.
Below are some of the most common types of foot fetish.
Cummy Soles Foot Fetish: Some foot fetishists are not interested in the toes or how beautiful a foot generally looks. What stimulates their erotic senses are… guess what? Cum on soles. For this type of foot fetishist, a cum-stained or cum-dripping sole can be particularly arousing. They even get off just by watching cummy toes. While some may prefer just staring or playing with cummy toes, others enjoy blowing their hot load on the beautiful soles of hot women (or men)
Stinky Feet Fetish: It doesn't matter if this foot fetish category sounds weird. What matters is that it exists and should be acknowledged. Some people are turned by a bad smell. Sounds gross? Well, that is the point. They prefer the gross, stinky, and sweaty stuff to the neat things regarding feet. For some reason seeing a stinky or smelly foot increases their sexual appetite and even gets them off.
Foot Worship: This type of foot fetish is often associated with BDSM. A foot fetishist with this kink can be on the receiving or giving ends. Some people like to worship beautiful feet. They do this by providing the feet dominance over them, adorning them, kissing them, and even sacrificing things like money to them. On the receiving end, people may like their feet to be worshiped.
Naked feet: This is one of the most common types of foot fetish. Naked feet entail that a foot is bare and unadorned by anything. Even nail polish is a no. Seeing beautiful naked toes can trigger the most profound sensations in some people.
Painted toes: Painted toes foot erotica is simple. Get those beautiful toes painted and watch them grovel at your feet. The sight of toes neatly painted in different or specific colors can send some people over the edge.
Feet-in-shoes: Some people love naked feet, but some don't care. What gets them on is the sight of feet in some beautiful or classy footwear, especially one they like or choose. People with this foot fetish tend to have a great liking for foot wears.
Those are the significant types of foot fetish. Other types concentrate on specific feet parts like the ankles, toes, heels, etc. Some prefer to see feet in socks, and others might just like feet adorned with jewelry. Whichever category you fall into, there is an erotica about it!
What is Erotica?
You have probably read a story that contained a lot of sexual activity. You enjoyed it but are unsure exactly what genre it fell into; you grouped it as a 'Romantic novel' or just a 'novel.'
Well, every story falls into a genre or category of literature. Even experimental works fall into the category tagged 'Experimental Fiction.'
With this established, it is worthwhile to note that every story that contains raunchy sexual activities is grouped as Erotica. Erotica is to the world of literature what sexual movies are to the movie industry. They are sometimes tagged as soft porn because they leave the explicit stuff to your imagination. Erotica are works of literature that describe sex or sexual activities in an erotic manner.
What Is Foot Fetish Erotica?
Foot fetish erotica is erotic stories with foot fetish as the main thematic occupation. In other words, the events and characters center around foot fetish and the types of foot fetish. You may wonder why anyone would sit and write foot fetish erotica, but the answer is not hard to guess.
There are foot fetishists who enjoy reading stories. As someone with a foot fetish, there might be different motivations for reading a foot fetish erotica.
One common reason is arousal. Whether you are alone and need to masturbate or with a partner and want to start on a steamy note, erotica can serve as a suitable ingredient. Another reason is leisure.
After a hard work day, what is more, soothing than settling into your comfy couch and reading your favorite foot fetish erotica? You can even read with your foot-fetish friends or partner.
Just as there are different types of foot fetish, there are different types of foot fetish erotica.
Best Place to Find Foot Fetish Erotica
Now that you know what foot fetish erotica is, it is time to read some. You may wonder, "Where can I possibly find foot fetish erotica?" We have the answer.
There are a plethora of places where you can find foot fetish erotica. Some of these places even offer their stories for free.
Without further ado, let us discuss some of the best places where you can get foot fetish erotica.
Satisfy your Foot Fetish with FeetFinder
Find Foot Fetish Erotica in Book Stores
Kinkly - A platform to read Foot Fetish erotica
Literotica
Satisfy your Foot Fetish with FeetFinder
FeetFinder is the No.1 site for anyone looking to satisfy your Foot fetish. It has 100,000+ creators selling their Feet pics and videos and millions of people who have foot fetish on this site.
FeetFinder is a legit website where you can buy content from your favorite Foot Fetish creator.
You can pay a specific monthly fee to your favorite content creator and get access to their content. You can also buy Feet albums of your favorite creators. Using the Tipping feature, you can give a Tip to your favorite Feet content creator. You can also request custom content using FeetFinder.
Book Stores
A good bookstore sells every type of book. Most traditional bookshops categorize the book they sell. They have Adult fiction sections as well as Erotica sections.
So if you want to read some great erotica, your local bookshop is a great way to start. You can walk in and search for erotica with a foot fetish in the title or ask a staff to suggest the best ones for you.
If you are shy and like to be discreet, you can patronize online bookstores instead. These days, virtually every business has an online presence. So you can type the name of your favorite book store on Twitter or Instagram, and they will pop up. You can then request specifically for foot fetish erotica and order one. You can as well search for reputable bookstores online and order from them.
RemittanceGirl
Remittance Girl is an online book repository with hundreds of erotic stories in different categories, including fetishes.
If you are looking for a quick steamy read to arouse you, you should visit remmitancegirl.com and browse through the fetish category.
You are sure to find a story that centers on foot fetish!  There are quick reads and long reads that span several chapters and even volumes. So go check out remittance girl and dive into a world of pleasures and foot fetish eroticism!
Kinkly
Kinkly publishes some of the best erotica on the internet. The stories are mostly non-fiction but are well-written and engaging, promising an intensely pleasurable ride.
Kinkly publishes erotica with themes that cut across BDSM, hookups, inter-racial and foot fetishes. The erotica on Kinkly is usually short but highly informative. You can check their foot fetish collection here: foot fetish collection, and pick any erotica you prefer.
Literotica
As one of the oldest sites on the internet that publishes erotic fiction, Literotica has everything sexual you can imagine. Literotica has hundreds of stories you can access by signing up for the platform.
You must be 18+ to be able to read stories on Literotica. Also, you can submit sexual stories if you enjoy writing erotic stories.
When we say Literitoca covers everything sexual, we mean it. There are outstanding foot fetish stories on the platform, which you can access once you sign up.
Literotica is also very safe to browse. To start reading foot fetish erotica on Literotica, visit their website.
PS: Best Foot Fetish Erotica sites or apps to read Foot Fetish Erotica
Great foot fetish erotica can help you relax and release stress from your body. They can also help set up the perfect pre-sex or pre-masturbation mood.
Even if you don't like reading much, we advise that you pick up erotica once in a while to help stimulate your imagination. We hope you find the best erotica in the places we have recommended.
Read more related articles:
Best OnlyFans Feet Creators to follow
11 Best Foot Fetish Websites and Apps
Best OnlyFans Telegram channels to follow