FeetFinder Vs Instafeet: What is The Difference Between The Feet Selling Platforms
What is the difference between FeetFinder VS Instafeet? Discussing the difference between the two platforms and in which platform you can make more money.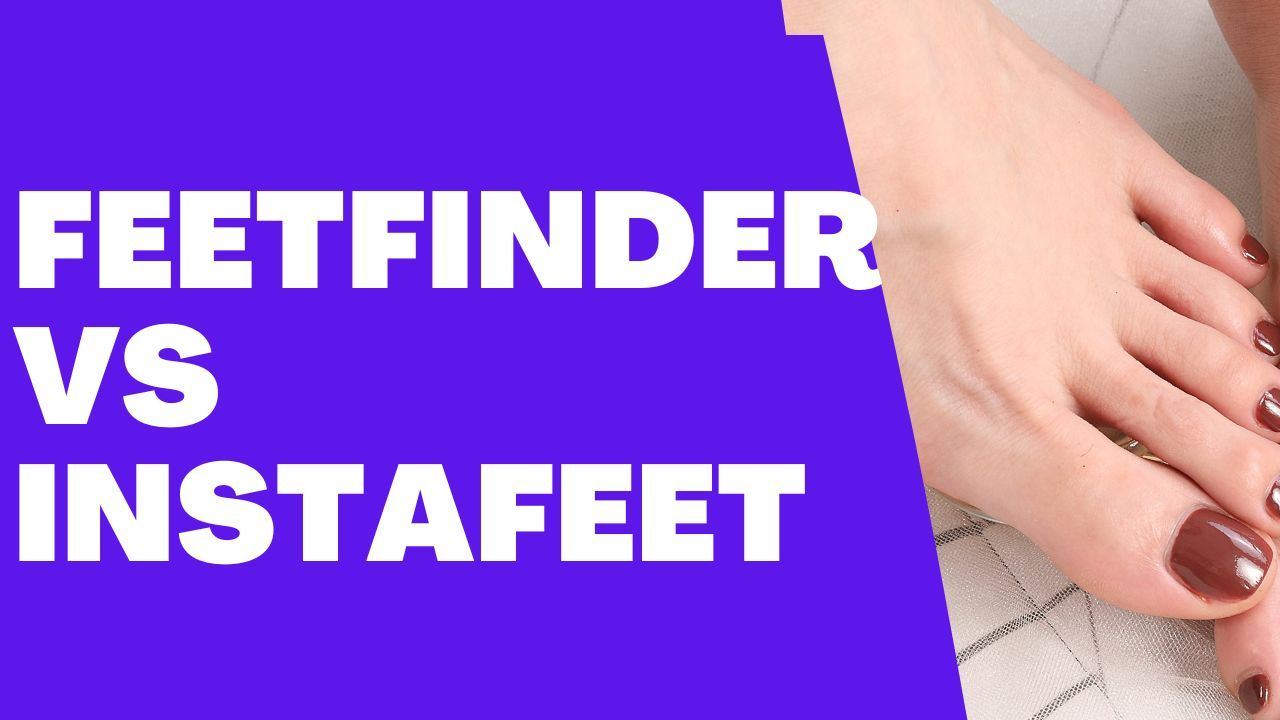 FeetFinder and Instafeet are platforms where you can sell your Feet pics and start making money. If you are interested in selling your Feet Pics and videos, FeetFinder and Instafeet are the two platforms you should be looking for. This article explains the difference between the two platforms in detail.
I am not even kidding, there are websites to sell feet pics, and FeetFinder and Instafeet appear to be the best.
And this brings up the question, which one is better? Instafeet or Feetfinder?
To come up with an answer, I have gathered some information that could help you understand the difference between the two platforms.
Is FeetFinder better than Instafeet?
FeetFinder is considered a number one feet pics selling platform and beats Instafeet in a few aspects that we will discuss later in the blog post.
However, Instafeet appears to be the legit platform, and only a few of its over-standardized policies have disappointed feet pics sellers. You can rest assured that you will get good sales through this platform.
Keep reading to explore more and see why FeetFinder is still a better choice than Instafeet.
What is FeetFinder?
FeetFinder is the feet fetish website with over 200,000 active users where you can sell and buy feet pics. According to the founder of FeetFinder, the website is secured and has the perfect setup for feet pics sellers(both male and female) to grow their business and find buyers from worldwide.
FeetFinder is a subscription-based platform, and by that, I mean you will buy a subscription of $3.99/month or $14.99/year as a seller.
Unlike other feet websites, FeetFinder charges sellers and not buyers for registering to make sure that there are only potential sellers in the market. This reflects the platform's credibility and builds trust between its sellers and buyers.
The platform also uses subscription charges to improve user experience, promote best-seller profiles, and manage marketing expenses.
Sell Feet Pics on FeetFinder here.
What is Instafeet?
Instafeet is a private platform that allows feet pic sellers to serve feet lovers with foot content exclusively. The platform is free for both buyers and sellers. The Instafeet creator profile is locked with subscription charges set by the seller. Instafeet is safer than FeetFinder. However, it now appears to be not as legit as it was initially.
The subscription barrier prevents gawkers and scammers who intend to steal your Feet pics. Instafeet is often praised for its strict policies, but at the same time, many potential sellers are left behind just because the website didn't find them legit.
Instafeet only allows female Feet models to register and showcase their feet pictures. There's no scope for male feet models on Instafeet.
How can you make money from FeetFinder?
Here are some ways for you to make money on FeetFinder;
You can earn through buyer subscriptions.
Buyers can also tip you on FeetFinder.
You can get requests for custom foot content.
By selling albums that can be bought multiple times.
By selling individual feet pics/videos.
You can also make a commission from the sales of someone who has joined the platform using your referral code.
As a FeetFinder seller, anyone can see previews of your listed feet pics and albums. You can list individual feet pictures, and videos and can even post albums(can have up to 5 pictures).
However, premium sellers have more chances to make good income because of the good number of sales. Premium sellers can price and list an unlimited number of feet pics on their profile. They can even initiate offers by sending requests to buyers. Basic sellers can miss out on opportunities like uploading high-quality albums of 1GB instead of 20MB.
Sell Feet Pics on FeetFinder
You can sell Feet Pics on FeetFinder and start making money. FeetFinder is No.1 platform for anyone looking to start selling their Feet pics and makes money through getting paying subscribers, selling your Feet pics albums, and receiving tips from your fans.
Sign-up For FeetFinder Here
How can you make money from Instafeet?
You can make money in three ways on Instafeet:
Through subscriptions.
By selling feet pics and videos.
By selling custom feet content.
Instafeet sellers can not earn by selling albums which could be a major source of income.
What commission does FeetFinder charge?
FeetFinder charges a 20% commission from each of your sales. Many users are satisfied with its services, as it is one of the actively maintained foot websites and therefore doesn't mind 20% of the deductions from their sales.
What commission does Instafeet charge?
Instafeet charges a 10% commission from every sale you make. Due to reasonable commission charges, many inexperienced feet pics sellers usually start with Instafeet.
What is the average income of a FeetFinder seller?
The average income of FeetFinder sellers is between $300 to $1000 in a single month. This should come with no doubt that many professional FeetFinder models are even racking up more than thousands of dollars.
Based on reviews and recommendations on the website, the starting bidding rate can be $5, $10, or $15. Depending upon the quality of your Feet pics, you can charge buyers anywhere from $5 to $15 per picture on FeetFinder.
You can be lucky enough like many YouTubers who even claim they made $22 per foot pic on FeetFinder. So, hope is not a strategy, but you can always try your luck by bidding high occasionally.
What is the average income of Instafeet sellers?
Instafeet sellers have an average income of $500 and more as per reviews posted on the website. Instafeet is for sure one of the most expensive feet websites because of its advanced tools and features.
Based on reviews, many old Instafeet sellers have a more successful career, and their earnings have even exceeded $1000 per month.
Pros of using FeetFinder
Feet lovers can see previews of your listed feet pics, albums, and videos without subscribing to your FeetFinder. This will incline them more towards buying pictures from you.
There are weekly cash giveaways for FeetFinder sellers who actively interact with FeetFinder through social media platforms.
FeetFinder also buys a few of the content of active sellers.
FeetFinder doesn't restrict males from selling their feet pics.
FeetFinder is the No.1 platform for selling your Feet Pics and making money. It is one of the best platforms for anyone to make money selling Feet.
Pros of using Instafeet
Only subscribers can see what you have posted on your profile. It prevents your Feet pictures from getting stolen.
Instafeet doesn't offer any cash giveaways. However, the platform is free for sellers and doesn't charge anything for registration.
The platform features active sellers on their website to land them more sales.
Instafeet only allows females to register and sell their feet pics to prevent scams that mostly come from males and can cause damage to the website's credibility.
FeetFinder Seller Reviews
FeetFinder appears to be a legit platform with reasonable ID verification policies for buyers and sellers.
The platform has better customer support and is easy to use.
FeetFinder is legit and has secure payment methods, which are Segpay and Paxum.
You can find more sales due to various categories of the feet fetish industry found on FeetFinder.
Instafeet Seller Reviews
Instafeet has got very poor customer support.
The platform is not actively maintained and takes too long to load.
Instafeet doesn't have any official payment method for its users.
Instafeet ID verification procedure asks for sensitive information, and not everyone is comfortable sharing them.
P.S.: Which one is the best platform to sell feet pics? Instafeet Vs FeetFinder
The two platforms are different, but both have high scope in the feet fetish industry. FeetFinder is more credible regarding its marketing policies and the fact that the website is actively maintained from time to time. On the other hand, Instafeet is safe and free for sellers and buyers.  
We suggest you cross-market your feet pics business on both platforms to enjoy more sales and a diversified user experience. Exploring feet websites is another strategy in this business to grow, so ensure you have enough sources to make sales.
Read more related articles:
How To Make Money Selling Feet Pics as a Guy?
How To Sell Feet Pics on Shutterstock?