FeetFinder Vs OnlyFans: Difference Between The Two Platforms
What is the difference between FeetFinder Vs OnlyFans? If interested to sell Feet Pics, OnlyFans and FeetFinder are the two best OnlyFans. In this article, we have discussed what percentage each platform charge and who is the No.1 platform for selling Feet Pics and videos.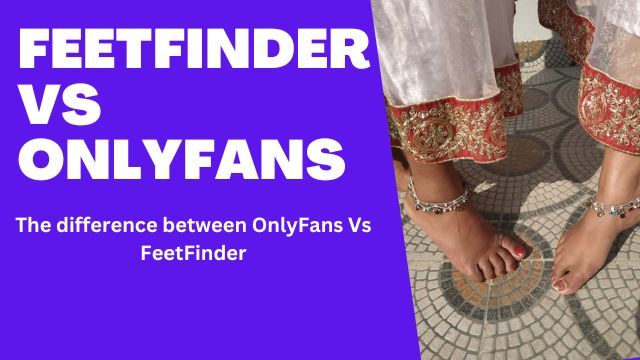 If you want to sell photos of your feet, two platforms come to mind: OnlyFans and FeetFinder. Onlyfans is a social media platform that enables content creators to launch subscription businesses and create more inclusive content. FeetFinder is a website dedicated to creators who sell their foot photos and earn money in various ways.
Feet fetish is no longer uncommon, but it is not as common as it should be. OnlyFans and Feetfinder are essential in assisting fetishists in obtaining exclusive foot content without making them feel strange.
At the same time, it is a significant source of revenue for many feet content creators. People are split between the two platforms and unsure which one to use to begin their journey as a feet pics seller.
What is FeetFinder?
FeetFinder is a website where you can sell pictures of your feet, hands, or anything else related to selling pictures of your limbs. It is a foot fetish website where you can sell and buy custom foot content. It is one of the most popular foot content marketplaces, with thousands of sellers uploading tons of new foot content daily.
FeetFinder is a unique website allowing users to buy and sell foot content. It was founded on April 16th, 2020. According to the information on its website, it is a completely safe platform. It provides its users with complete privacy controls. It also does not encourage nudity, but suggestive content is permitted.
According to FeetFinders reviews, thousands of sellers are using the platform and willingly selling their feet pictures. All one has to do is click on a video or a picture on the site, and it will take you directly to the seller's profile, where you can choose your preferred sellers and close your deal with them.
For any purchase, the buyer must also create an account on FeetFinder. Pictures of various varieties are available on the homepage, from which one can easily select the type of picture they want to purchase, such as barefoot soles, Black heel shot, feet in summer or arched feet images, and more.
Let us take a look at the benefits of selling at FeetFinder.com:
FeetFinders is one of the most secure platforms for buying and selling foot images.
Tens of thousands of buyers
Sellers' content is automatically blurred, so buyers must pay and cannot scam.
FeetFinder's customer service is available 24 hours a day, seven days a week.
You can get the custom images and videos you want.
It is a simple website with many years of experience in the following field.
It has nearly 412k Instagram followers and over 196K Twitter followers.
It has a 4.9 rating from 500+ verified users on Trustpilot.
How does it work?
You can display your photos on FeetFinder by creating a model page. You can also specialize in a specific category, such as soles, lotions, heels, nail paints, etc.
Sellers can post only their feet or entire body in their content to remain anonymous or public.
To begin as a seller, you must be 18 or older and provide a government ID to verify your account. Once verified, you can quickly post and tag photos with appropriate descriptions and categories.
The ID verification is never shared outside the company and is only used to ensure that users are over the age of 18 and are not scammers.
You can set your prices, and images are blurred until buyers buy them. FeetFinder models also earn 80% of all sales made on the site. FeetFinder is a popular seller of foot content on the market. As a result, if you are serious about starting a side hustle, FeetFinder is an excellent resource.
How to make money on FeetFinder?
You can make money on FeetFinder in the following ways:
You can make money selling your Feet albums. Feet albums are a one-time created product and could be sold unlimited times.
On FeetFinder, you can make money by getting paying subscribers. These subscribers pay a monthly fee to you.
You can also receive a Tip from your fans.
FeetFinder is the No.1 platform for anyone looking to sell your Feet Pics and videos.
What is OnlyFans?
OnlyFans is a social media platform for SFW and NSFW content creators to start a subscription business and earn money in various ways, such as selling subscriptions, receiving tips, selling custom videos or pictures, and live streaming.
Due to the lack of restrictions, it is the most contentious platform. OnlyFans users can upload any content and hide it behind a paywall, which includes porn. OnlyFans was founded in 2016, but it is mainly used to earn money by celebrities or sex workers. TikTokers, for example, invite their followers to OnlyFans and offer unique content in exchange for cash.
OnlyFans is a broader platform. This platform allows content creators from a variety of fields to earn money. OnlyFans announced in August 2021 that they would no longer allow adult content creators to post content, which they later reversed, but it was a significant shock to the creators who put a lot of effort into their page and want to make money.
When it comes to selling unique content, OnlyFans is the ideal platform. As a result, OnlyFans is simply a platform that pays the creator based on the number of subscribers and views.
Nobody is obligated to show porn or any other type of content. If you have a sizable following on other social media platforms, OnlyFans is the best option. OnlyFans allows you to sell feet photos in addition to other content.
How does it work? Who uses it?
Every celebrity, from musicians to actors to models to fitness experts and influencers, uses OnlyFans to share their content in exchange for money. OnlyFans users can either receive money from the pay-per-view feature and tips, or they can receive direct payments from fans on a monthly basis.
When you want to share something, all you have to do is go to the create post section, create a new post, and share it with your followers. You can also include a poll or a media file in your post. OnlyFans requires Reddit and Instagram accounts in order to sell feet photos.
After getting your subscribers on this platform, you only have to set up a page on OnlyFans and upload pictures. You must now promote it on Reddit and Instagram.
Difference between FeetFinder and OnlyFans
Onlyfans is a more exposure-friendly platform than Feetfinder In terms of discoverability. OnlyFans creators have had this problem for many years, and their content discoverability could be improved. Platforms such as FeetFinder provide more discoverability options than OnlyFans.
The distinction between being niche and having a website with a category. FeetFinder is a niche-based website where sellers and buyers can buy and sell photos of only their feet, while Onlyfans is a broader social media platform that has to offer more content other than only feet.
Regarding connecting with verified users, Feetfinder is a more secure app than Onlyfans. Feetfinder ensures that your payments are safe and that you receive your scheduled payments on time. On the other hand, numerous online reviews show your earnings could be more secure on OnlyFans. Even though OnlyFans has implemented two-factor authentication, some users still need help receiving their payments.
You can make money only by selling subscriptions to OnlyFans. At the same time, users of Feetfinder can earn money in two ways, by selling foot albums and by offering monthly and yearly subscriptions.
Both Feetfinder and OnlyFans are free to join, and both charge the same commission percentage, i.e., 20%. This is superior to Foap, which takes 50% of the commission on every sale.
OnlyFans is primarily hosted by celebrities, sex workers, and other well-known influencers. As a result, attracting buyers willing to pay for exclusive X-rated content and foot pictures becomes quite tricky. On the other hand, buyers who cannot afford high subscription fees prefer Feetfinder. So, while Feetfinder may pay less initially, it can help one get more customers.
PS: FeetFinder Vs. OnlyFans: What is the difference between the two?
The best website to sell foot pictures is FeetFinder. OnlyFans is more likely to make sales if you have a large social media following, whereas FeetFinder markets seller's accounts for you.
OnlyFans does not allow buyers to search for keywords or specific content, so the chances of amateur models selling are slim to none. FeetFinder spends a lot of money to bring traffic to sellers, so whether you have 100 or 100,000 social media followers, you still have a good chance of making sales.
FeetFinder offers custom search and filter options to help you find the most specific content. Buyers on FeetFinder are solely interested in feet. Some OnlyFans buyers may want nudity in addition to feet photos. As a result, if you need to sell your feet' content while maintaining better privacy protocols, FeetFinder is the best platform for you.
Frequently Asked Questions
Do people buy feet content?
Consumers buy foot content. Selling images of feet may seem unusual to you if you are unfamiliar with the concept, but there is a sizable market for it. Nearly every online site allows for the sale and purchase of foot content.
Apart from the foot fetish group, there are several other reasons why individuals purchase foot material. For better advertising, many different brands and businesses purchase foot material.
Which kinds of industries require photos of feet?
Many people admire feet and are eager to purchase prints of them. But, to be clear, the following individuals need to have their feet photographed:
production businesses
Painters
admirers of feet
Modeling
Stock Picture Websites
If you have no concerns with modeling, you can also sell images of your feet to various marketing firms, businesses, or individual customers worldwide.
Do feet content have to pay taxes?
You will be required to pay a set amount of tax on each sale, just like any other firm. Online foot image sales revenue is likewise regarded as business revenue. As a result, record each payment you make for tax purposes. Let's talk about how to make money selling images of feet now. Three groups of people typically purchase photos of feet:
Personal: Research indicates that some people have a fascination for feet. So, it is understandable why people in the foot fetish group can sell photos of their feet to make a little more money.
Companies: Companies that produce footwear or other foot-related products are also eager to purchase foot photos taken as foot models.
Websites: Businesses that publish articles regarding children's health, running-related sports, and clothing are also willing to pay for foot photos to enhance the appeal of their writing.
Which one is more reputable?
Creators of foot-related content benefit from Feetfinder's respectable reputation and track record. The platform is regarded as one of the most trustworthy websites, despite a few users complaining about identity theft and payment concerns—the no-nudity policy shields users from embarrassing situations.
Yet, the fact that OnlyFans offers explicit content has damaged its reputation. Thus, if you're interested in entertaining die-hard foot fetishists, it might be an alternative for you. Also, you can earn more on OnlyFans due to this reason.
You can also read the following: