Feet Pics Username Ideas For OnlyFans and FeetFinder
We have added 30+ OnlyFans and FeetFinder Feet Username ideas for you to use in your accounts. You can use these Usernames in your OF or FeetFinder account as they are optimized for you to help you deliver your message to fans and be remembered which is good for branding.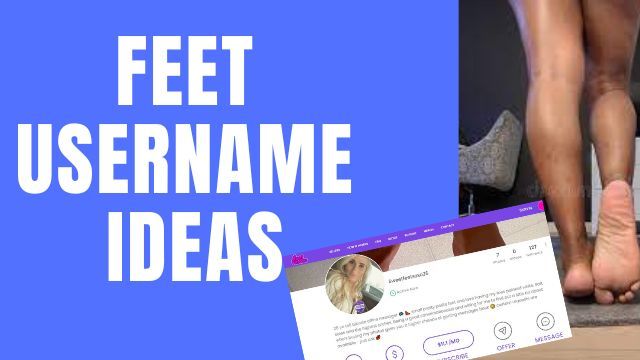 Want to ramp up your feet-selling gig on FeetFinder and OnlyFans? You can do this by optimizing your profile on these platforms to attract more clients. The first step toward this goal is using a catchy username.  
The username on your profile is the first thing people see and interact with. So, make it count and use the name that can perfectly capture the imagination and desires of the foot lovers.
This blog is put under the pen to make you realize how important usernames are and how you can optimize your profile to boost the sale of feet pics. I will also share some ideas for feet pic usernames.
FeetFinder is the best site for anyone looking to sell their Feet pics and videos. You can make a lot of money selling your Feet pics and videos. They are one of the best sites for anyone looking to make money selling Feet pics. We have shared some Tips and Tricks For FeetFinder for you to sell your Feet pics and start making more money.
FeetFinder & OnlyFans Username Ideas for Girls
Here are some username ideas for girls who want to scale up the feet pic selling business:
Sweet Feet
Dool Feet
Toety
InkyFeet
Twinkle Light
Footer
Barefoot Bunny
Sole Mate
FeetFinder & OnlyFans Username Ideas for Men:
Here's a list of usernames that boys can use:
FeetFit Boy
Sawgeryboy
Inspiring Toe
Lucky Feet Touch
MachoToeManiac
Lord Toe Snow
Light Feet
FootPanda
Importance of A Username When Selling Feet Pictures On Social Media
A username is an essential part of a social media profile since it is how people identify and interact with you. It is especially true if you are doing business, like selling feet pics.
The following are some ways a username impacts visibility and business opportunities:
Branding
Easier to get discovered in the search
Professionalism
Consistency
1. Branding
When you have a memorable and unique username for your business or personal profile, people will be able to find you easily and remember who you are.
2. Searchability
Search engines and social media platforms make it easier for people to find you when you have a username that accurately represents you.
3. Professionalism
It is important to choose a username that can create a positive impression and increase credibility, in turn leading to more business opportunities.
4. Consistency
Building a consistent online presence and making it easier for people to locate you is easier when you use the same username on different social media platforms.
You can establish your brand, increase visibility, and develop business opportunities with a well-chosen username.
How To Make Your Feet Profile Pop Up On Search Engines
Imagine whenever someone searches for feet pics on any platform, and your profile pops up— wouldn't it be great?  The best way to accomplish this is to optimize your profile so that search engines can find it easier.
Several strategies can enable you to appear in search engines. Keywords, descriptions, and images are some of them. You must also take several other steps to rank your account on search engines, but these are the most important.
Choosing keywords that are relevant to your profile will allow you to reach the target audience most effectively. Searching online for solutions involves using keywords, so if you want to engage your audience, you must utilize specific keywords, such as "awesome feet pics," "buy feet pics," and more.
Descriptions include keywords as well as information about your content, like videos or pictures.
It is important to upload catchy images and content on your account so that people click them to view or buy. Having your profile appear on search engine results enhances your account's impression.
Improve your profile ranking with these three strategies:
Keywords selection
Have an amazing FeetFinder Bio.
Upload Amazing Free Feet Pics. You can add Feet albums and videos by charging a fixed fee.
Keywords Selection
Search engines will rank your account higher if you use the right keywords. Like any online business strategy which involves ranking higher in the search results, your feet profile is also a business, and you have to optimize it to make it more visible.
Adding keywords related to feet pics that people are more frequently searching for will help your profile pop up more often in the searches. In this way, you can get more potential buyers.
Clear Description
After making an account on FeetFinder of OnlyFans, you will start uploading the feet pics. Make sure you come up with compelling captions and descriptions. Additionally, the wording should be clear, concise, and effectively convey the message so that buyers can understand what your content is about. The selection of keywords is, hence, quite crucial.
Compelling Photos
Create creative pictures and videos for your feet finder account. Having quality content is essential for retaining buyers on your profile. Regardless of your position on the search engine, if the feet pics or videos are not up to the mark and don't provide the value that buyers are looking for, you won't be able to sell any feet pics.
What is the best way to promote your feet step by step?
Promoting your feet can get you more buyers with a few simple steps. Sign up on an authentic website such as feet finder or OnlyFans and verify your identity with a government-issued ID. You now need to set high-quality pictures as your display images.
The promotion of your feet begins with posting on your feet profile. As a basic part of marketing your feet, you should create a profile, add a bio, and post on your profile.
Further, you can include keywords in your description, title, and bio. It is important to promote your feet profile to reach a wider audience.
Several platforms, such as FeetFinder, also promote user-generated content. However, you'll have to upgrade your account to use their marketing services.
In this step-by-step guide, we will explain how to market your feet and how you can take advantage of these strategies.
Pick a Reputable Platform
Ensure your account is created on a safe, secure, and authentic website.  I recommend using platforms such as FeetFinder or OnlyFans. As these platforms help in promoting your content. Creating an account is the first step to marketing your feet. It is easy to create an account on FeetFinder with a few quick steps.
After the creation of an account, verify it through an official government ID. It is important to put accurate information in your profile so that buyers can easily find you through specific filters.
Optimize your Profile
Next, you need to optimize your feet profile, and this is crucial. Whether you are a creator or a business, you need to optimize your accounts. If you don't put in a proper effort, no one will be able to find you, no matter how good your content is.
Make your feet profile stand out with an effective but precise bio. If you include the size and details of your feet, you will gain a marketing advantage.
Choose an interesting username and description when writing a bio so that it can make a good impression, as the bio is the first thing that users interact with.
It is equally important to have high-quality profile pictures, as buyers will see the display pictures and captions. You can optimize your feet profile by adding keywords to your bio and the captions of your profile pictures.
Social Media
After creating your profile on these platforms, you should share it on social platforms to grab more audience. Use platforms like Instagram to display your feet pics and then redirect traffic to your FeetFinder or OnlyFans account.
There are two platforms where you can sell your Feet pics, but FeetFinder is the No.1 platform for anyone looking to sell their Feet pics and videos.
FeetFinder Username Ideas:
FeetFinder is the No.1 site for anyone who is interested in selling their Feet Pics and videos.
If you want to make money on FeetFinder and have to add Username to your FeetFinder profile, you have to create an account.
Once you create an account, you will need to verify, and then you can start adding content and making money on FeetFinder.
Here are some cool FeetFinder name ideas:
MysexyFeet
TwinkyFeet
MyOnlyFeet
18_feet (Adding your age followed by Feet)
FeetyFeet
MySexyFeetPics
MyLesbianFeet
MyLesbianSexyFeet
name_feet (you can add your first name followed by Feet)
Here is an example of a FeetFinder username that you can choose and some other optimization tips for your account.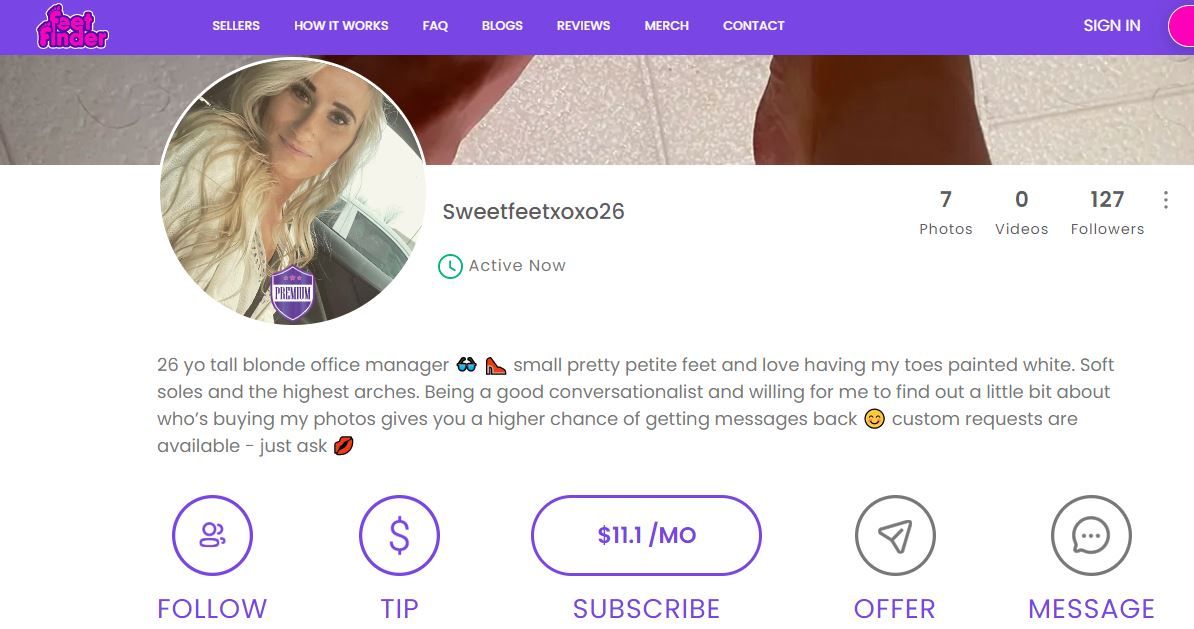 OnlyFans Feet Username Ideas:
OnlyFans is another platform where you can sell your Feet Pics and start making money. The following are some of the OnlyFans Username ideas:
OnlyFeetPics
FeetSexyPics
MySexyFeets
Feet_xoxo
FeelingFeet
AlexaFeet
Choosing the right Feet Username for your OnlyFans is important as it will help you with many things, like helping you with being remembered and giving the message that you are someone interested in selling Feet pics.
FAQ about Feet Username Ideas for OnlyFans and FeetFinder:
What are some FeetFinder Username Ideas?
We have shared a list of FeetFinder username ideas, like choosing a username like SexyFeet101, mygirlFeet, Alexyfeet, and similar, that we have explained in great length in this article that you can choose.
Why is it important to have a great username for FeetFinder or OnlyFans?
It is important because of many ways your name will be easily remembered, which is good for branding, and you can deliver the message of what someone should expect by subscribing to your FeetFinder page.
PS: Feet OnlyFans and FeetFinder Username Ideas:
Start selling feet pics online to earn a decent income. FeetFinder and OnlyFans are good platforms to get started. Make sure your content is high quality and creative, and promote it as widely as possible on social media.
Read more related articles: