[How To] Make Money on FeetFinder | A Step By Step Guide
FeetFinder is the No.1 platform for selling Feet Pics and videos. They have over 1 Million creators selling Feet pics. In this beginner Guide, I explained a step by step process to start selling Feet pics and make money on FeetFinder.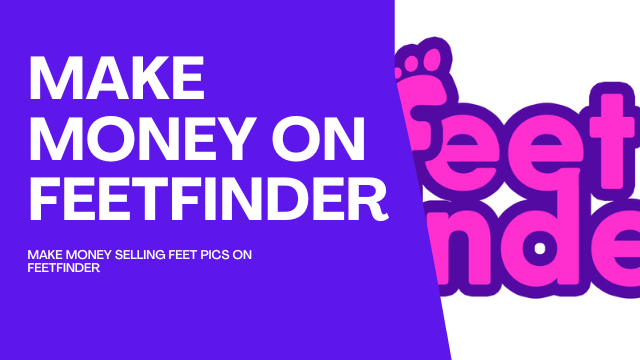 Are you searching for the most reliable platform to sell feet pics and videos? Or have you already come across the growing popularity of FeetFinder and want to know more about it? In both cases, we have all the answers for you.
FeetFinder (read our articles) is a relatively new but unique platform that has grown in popularity due to excellent customer service. The website caters to the massively growing demand for feet pics and videos in an extraordinary and secure way.
To know more about the undeniable potential of FeetFinder and to transform it into your full-time income source, read this full blog.
FeetFinder Overview
Launched in 2019 by Patrick Neilson, FeetFinder is the safest and most legitimate foot niche-based online platform. The website has over one million active users who spend thousands of dollars to buy feet pics. Therefore, if you are here to discover the reliability of FeetFinder as a seller or a buyer, we can bet on an excellent user experience. Want to know why?
Patrick Neilson, the platform's owner, has ensured to create an integrated and personalized security system to protect the privacy of both buyers and sellers. FeetFinder, unlike other foot fetish platforms, promotes seller profiles and connects them with interested buyers.
Furthermore, FeetiFinder provides foot fetishists with a platform devoted entirely to their fantasies and offers them access to thousands of models with attractive feet. All of these factors contributed to the rapid growth of FeetFinder, which is now a full-time income source for foot content creators.
FeetFinder earnings potential and stats:
Curious about how much you can make on FeetFinder as a Feet seller? The following are some of the FeetFinder stats:
FeetFinder has over 1 Million Creators selling Feet Pics and videos on their platform.
They have multiple millions of fans who pay and support creators.
There are thousand of creators who are making a full-time income selling Feet Pics.
FeetFinder gives you the ability to view buyers, and you don't need to do outside marketing to promote Feet pics, but if you do, you will end up making more money.
How Does FeetFinder Work?
FeetFinder is a website built for foot lovers and foot models. When using FeetFinder, content creators must sell only their foot pictures and videos. It is a subscription-based platform where buyers pay a monthly fee to access feet pics of their favorite models.
On the other hand, the creators also subscribe to FeetFinder as a model before monetizing their content. The website has introduced two subscription plans to become a FeetFinder model; the Basic Plan and The Premium Plan.
For the basic plan, the sellers must pay a minimal fee of $4.99 for a monthly subscription, $14.99 for annual access to the site as a seller, and $40.00 for lifetime access.
To become a premium model, the sellers pay $14.99 monthly, $49.99 annually, and $80.00 for lifelong access to the platform. Given the outstanding marketing and customer support provided by FeetFinder, the model subscription costs are fair and reasonable.
Similar to other platforms like OnlyFans and FunwithFeet, FeetFinder deducts 20% of its models' earnings as service charges.
How Much Can You Earn on FeetFinder? The Bare Minimum and The Maximum
Like all other online ventures, many of FeetFinder's creators make over $8000 monthly, while others struggle to get subscribers. And not to mention the countless average-earning creators who make $500-$1000 monthly.
So, there is no specific number that we can predict you will earn on the platform, but there is one thing we can guarantee: FeetFinder has the potential to become a full-time income venture for creative models.
Your career on the platform depends on the marketing and pricing strategies you apply. For example, consider starting your seller account with a free-to-view profile to attract buyers. Then, slightly convert your profile to a subscription-based account, and so on.
Different Ways of Making Money on FeetFinder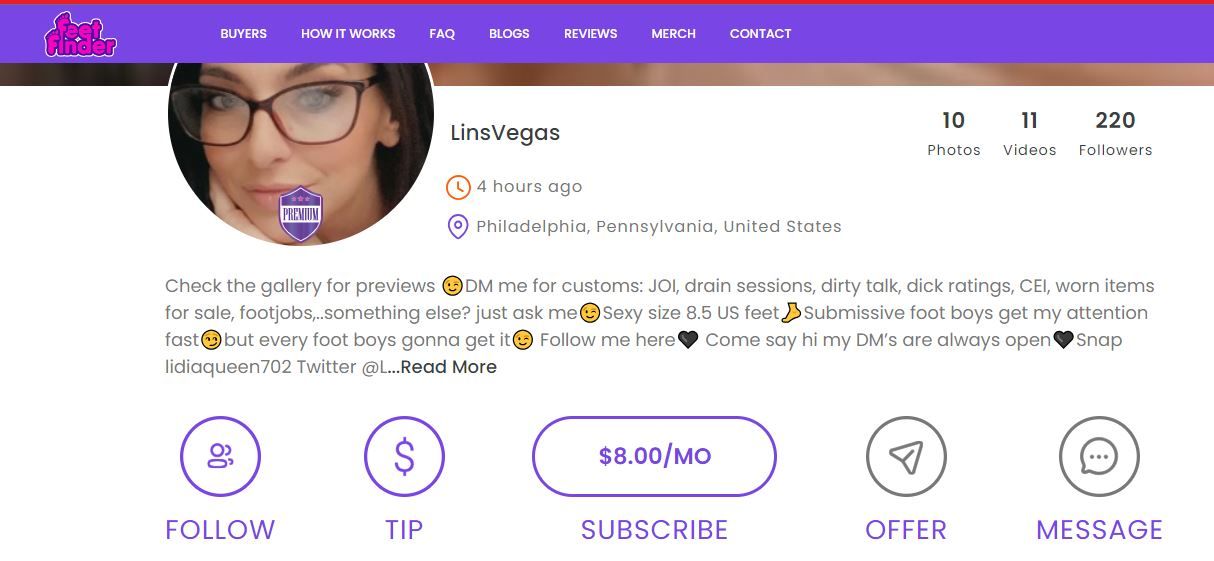 The best part about being a FeetFinder model is the various opportunities the website provides its models to make money. Below is a list of ways you can generate passive income on FeetFinder:
Subscription: FeetFinder is a subscription-based venture where you can set a monthly price for users to access your feet' pics and videos.
Feet albums: You can make albums containing a minimum of five or a maximum of 15 pics of your feet and sell them for a fixed price. Every foot pics album you create can sell unlimited times on the platform.
Custom Content: You can take orders for customized feet pics and videos in your FeetFinder DMs. Models charge $50-$100 for a single custom-made foot pic on the platform.
Tips: This is the bonus or extra money you can expect to make on FeetFinder. The website has many big fish customers who love to tip their favorite models for making satisfactory and exciting content.
Referral Bonus: Every FeetFinder user gets a referral link or code. If someone signs up to the platform using your reference code and spends money, you get 10% of their spending on the platform as a bonus.
Reasons to Sell Your Feet Pics on FeetFinder
Why choose FeetFinder over other foot fetish platforms? Here's why:
FeetFinder is a reliable content monetization platform that includes various levels of verification and security for sellers and buyers.
As a FeetFinder seller, you have complete control over the pricing strategies of your account. It gives you the flexibility to set your profile according to your preferences.
FeetFinder is a niche-based platform with millions of foot lovers looking to invest in high-quality foot photos and videos.
FeetFinder is not just for users in the United States; it is an international platform accessible globally if your country does not restrict it.
An abundance of tags, menus, categories, and search options make FeetFinder a convenient and user-friendly website.
The platform promotes sellers by displaying their profiles and blurred pictures to potential buyers.
FeetFinder has employed the most reliable payment methods, Paxum and Segpay, to ensure no data or money breaches.
Models can learn and improve their content-making and selling skills with FeetFinder's blog, which is regularly updated and offers extensive information and guides.
FeetFinder is free to join for buyers.
How to Make Money On FeetFinder | A Step-by-Step Guide
Now that we have understood the workings, potential, and benefits of using FeetFinder, let's explore the process of signing up for the platform.
Step One: Sign up For Your FeetFinder Seller Account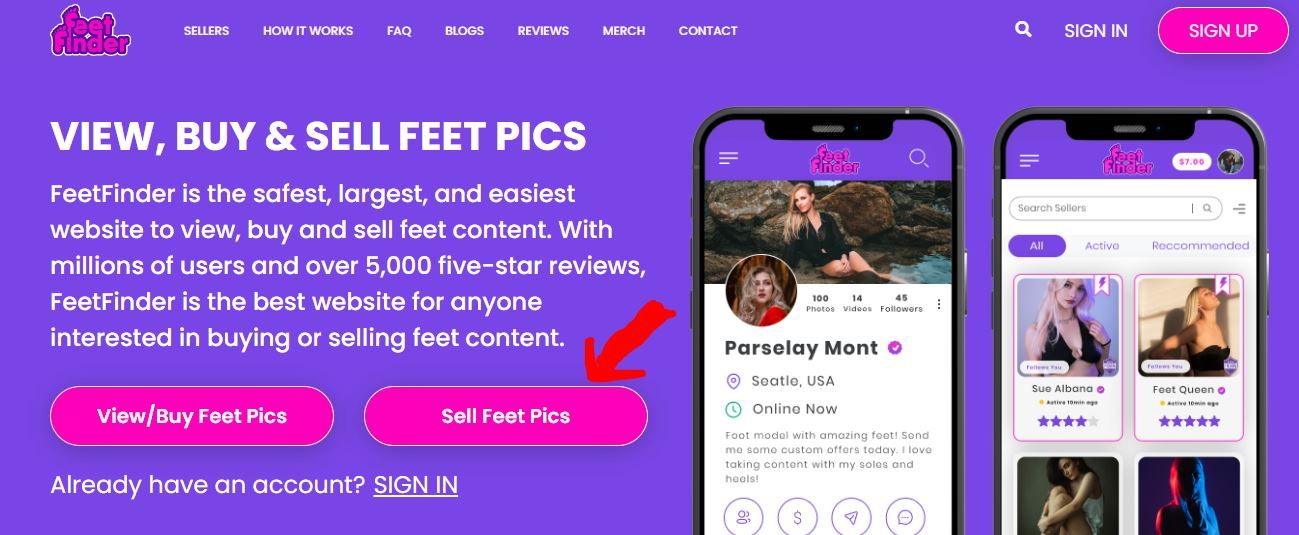 Click the link to land on FeetFinder's sign-up page. Remember that the platform has some strict age verification policies, and you cannot become a FeetFomder creator if you are below 18 years old. To verify your identity, you must present your government-issued ID and a close-up selfie at the time of account creation.
After that, you must buy one of the subscription plans introduced by the platform to become a seller.
Once paid, now wait for 24-48 for the website to verify your provided details. Verification is done in less than five minutes, and you will receive an email when it is done.
Step Two: Set up Your FeetFinder Seller Account
After verification, you will get a personal seller account from the platform. Remember, the overview of your FeetFinder profile serves as your first impression to buyers. If your profile does not appear legitimate or attractive, it will lose the visitor's interest. Therefore, focus on each part of setting up your FeetFinder seller account.
Display Name
Begin by choosing an appealing, brief, and easy-to-remember display name for your seller profile. The long and complicated display names can frustrate users and cause them to forget them. Furthermore, if you have a large social media following, use the same display name on FeeFinder to make it easier for your followers to find you.
Profile and Cover Photo
If you have started with a subscription-based FeetFinder account, your profile and cover picture are the only free-to-view content on your seller page. Upload captivating and exciting images of your feet to entice users to click the subscribe button.
About Me / Bio
When a user visits your seller profile, they want to know about you and your content before paying the monthly subscription. Your FeetFinder bio can do the job of introducing your personality and the type of content you produce. It is a crucial component of your sales funnel and needs to be written carefully.
Mention details like the size and shape of your feet and the flow of your content, highlight your interests, and give it a naughty twist to engage the readers. Also, remember to add keywords in your FeetFinder bio to increase your reach to customers.
Here are a few examples of engaging FeetFinder bios:
I have toes that are better to lick than lollipops. Want to taste them? Subscribe to access 20+ feet of albums and private chats.
My feet are soft enough to give your dick a hard time. I am 5 '6, and my feet are size 5. DM me to have personalized footjob videos.
Welcome to my exciting world of lickable toes, pretty soles, and curvy arches. Subscribe for $20 to view unlimited feet pics and videos. One new post daily.
A good example picture of a good FeetFinder Bio:

Step Three: Create High-Quality Content
Before you start creating content, consider viewing the FeetFinder profiles of other models to see what makes them popular and unique. Take content ideas from various models, then incorporate them into your content while giving it a personalized touch. Try different angles, poses, themes, props, and settings to keep your audience excited and engaged.
The more you diversify your content, the more likely you are to develop long-term customer relationships.
Once you have prepared premium quality content, consider protecting it with a watermark to avoid any misuse of your Feet' pics. You can also read: How much to charge for Feet pics?
Step Four: Set up a Pricing Methods and Post Content
Next, decide on a subscription fee and other pricing for your content. Experiment with different price variations in your foot albums to see what works best for your FeetFinder account. If you are out of ideas and don't know what to charge, check out the seller profiles of other models to see their prices and understand the average market rate.
Before uploading, recheck your content and give it a few final touches with the help of editing apps, if required. Finally, upload your best content. You are all set to earn big bucks on FeetFinder.
Step Four: Promote Your FeetFinder Seller Account
Despite the fact that FeetFinder assists its models in promoting their profiles, this will still fall short. As a foot model, you must market your FeetFinder account on various channels, like social media platforms and adult websites.
Some popular platforms used for FeetFinder promotions include Reddit, Twitter, Instagram, and X-Rated websites. All of these platforms have massive user bases, and that is what you need to target as a creator. However, to avoid inconvenience, it is necessary to read the community guidelines of each platform you use for FeetFinder promotions.
P.S. How to Make Money on FeetFinder?
FeetFinder is a massively growing platform with the potential to become a full-time income source for foot models.
In order to become a successful foot model on the website, you must employ the correct strategies and marketing techniques. For example, use the power of social media to attract potential buyers or collaborate with other models to take advantage of their fan bases. FeetFinder is full of opportunities for creative candidates.
If you are interested to read FeetFinder reviews, it is a trusted website with a Trustpilot score of 4.9/5, and creators have made a lot of money selling Feet Pics on FeetFinder.
Read more related articles:
Foot Fetish Therapy: Everything you need to know
How to sell Feet Pics on Instagram?