How Much To Charge For Feet Pics?
If you are selling Feet pics and videos online, you might be interested in knowing how much to charge from your fans? In this article, I have explained how much you should charge from your fans for your Feet pics and videos.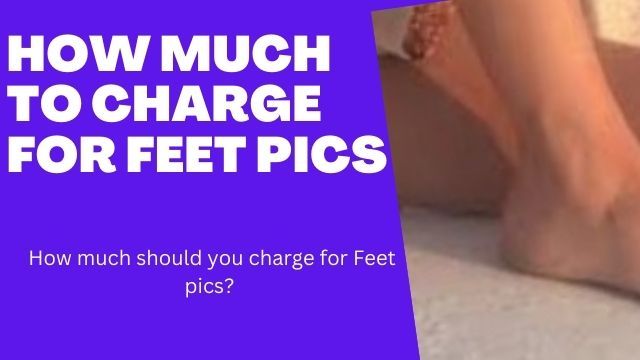 If you have finally decided to sell your feet pics and settled on a good site and have gone far enough to even set up your profile, this might be your chance to decide the little things. You might have started getting buyers by now but the one thing you still aren't sure of is how much to charge for your feet pics. If so, the answers are here for you. Below you will find a complete guide on how much to charge for your feet pics.
Feet pics have gradually become a hefty source of income for many people over recent years.
You can find foot pics circulating in almost every other corner of the internet. There are many platforms that are specially set up for the purpose of selling feet pics and many feet pics sellers head over to these sites to establish their name in the feet pics industry. Other than that, some content creators favor their own social media accounts for advertising and promoting their feet content.
Feet content doesn't only mean feet pics. Some feet content creators make short videos and accept custom orders from their shoppers once they've found a sizable fan base in the feet industry. This custom content is priced differently from ordinary feet pics. In short, you won't find a hard and fast rule that must be used when charging for your feet pics. Some sellers, whose content goes out like hotcakes, price their feet pics at relatively higher rates. The more name you make for yourself, the higher you can charge your buyers.
To understand how to charge for your feet pics, read on.
Who Buys Feet Pics?
Before anything else, you need to know who constitutes your consumer base. Feet pics are purchased by a wide range of shoppers, not all of which are feet enthusiasts. Some agencies and companies need feet pics they can use in advertising their brands or for other data collection purposes.
They gather this data online from various Feet content makers and sometimes go as far as to order custom content for a good price.
In light of this, some of these consumers are likely to pay more than the average. You might want to learn who the potential shoppers are before you can start charging for your feet pics.
Stock pictures websites such as Shutterstock, Unsplash, Freepik, Pixabay, etc. buy feet pics at higher prices.
Companies that are centered on beauty products for pedicures and products that provide foot care need feet pics for advertising their products.
Manufacturers who are looking to market their foot jewelry or other foot-related accessories need feet pics that are custom-made.
Shoe manufacturing companies that are looking to advertise their collections and new footwear need feet pics and models
Modeling agencies need foot models so they can advertise and endorse various brands.
Medical researchers need a huge number of feet pics as data for research, survey, and study.
Medicine manufacturers need feet pics to advertise their medications that are concerned with foot health. They also raise awareness about health problems relating to feet.
This is definitely not where the list ends, but these are some of the most common customers that may need to buy feet pics. Shoppers have many reasons to be looking for Feet pics that they can buy.
Some people may be thinking of using feet pics as a cover for something of their own and might be in search of custom feet pics suited to their own desire. Whatever the case may be, it helps to know who you are selling your feet pics to, so you can charge for your feet pics appropriately.
Platforms for Selling Your Feet Pics
There are various platforms nowadays where you can find customers to charge for your feet pics. As selling feet pics isn't illegal anywhere, any website that can be used to market and sell is likely to have a feet pics community. Other than these, there are a number of platforms specifically meant for the feet content business as well.
Sell Feet Pics FeetFinder
FeetFinder is a very secure, supportive website for selling feet pics. To protect the privacy of the sellers, it blurs the photos, so customers don't have access to them until they are paid for. The platform has a seller fee which you are required to pay, and is $3.99 per month or $14.99 per year.
Moreover, the site also deducts a 20% cut off the subscriber's fees, which could seem a little too much when lumped with the seller fees. But the site has a referral program where you can refer a friend to the website and earn a 10% commission from all their future earnings. This commission is paid by the platform itself, not the friend.
Sell Feet pics on OnlyFans

Although OnlyFans isn't primarily meant for selling feet pics, it can be used to sell your feet pics. OnlyFans mandates consumers to pay a subscription fee before they can access your pictures and videos. You can set up a subscription fee of your own choosing and decide how much you want to charge for your feet pics. Once you start selling, you can offer exclusive content to your fans for higher prices.
You do not need to take earnings outside of OnlyFans either, which means you'll have a secure place to sell your feet pics. You'll have to publicize your content by composing a good description, and then you can start by posting your feet pics.
The only con of this platform is that OnlyFans takes a 20% cut from the subscription fee of the consumers. It means you don't get the entire amount that you set for a subscription. It means if you don't charge for your feet pics correctly, you won't be making significant cash.
Feetpics
As is evident from its name, this feet website is an all-in-one package that allows you to sell feet pics while giving you tips on foot care and photography to improve your feet pics quality. You can also avail yourself the opportunity to promote your content to do better in buyer search queries but you'll need to pay for it.
Another disadvantage of selling on this platform is that you'll be required to pay a one-time fee of $5 when you start here, without which you won't be able to start working.
Wikifeet
Wikifeet is a site which has the most diverse array of feet pics. From professional models and celebs to anyone who just wants to snap a feet pic, Wikifeet has it all. The platform promotes your feet pics through a discussion forum where feet of the day/week are chosen.
By throwing in your own unique style, you can get a chance to get featured and boost your feet pic sales. If your sales increase, the price you charge for your feet pics can also increase.
Social Media Sites
Other than sites that are meant for the purpose of marketing feet content, you can also use social media sites to charge for your feet pics. Since these platforms are ideal for marketing and publicizing yourself, you can use them to promote your content and link your posts to your other accounts on feet-centered websites.
Sellers that have a lot of supporters would especially find this practical. However, if your social media account is where you hang out with your companions and relatives and where you post your pictures, etc., do not use it for selling feet pics. Anonymity is crucial when you are selling feet pics. Some social media sites perfect for promoting your feet content are Twitter, Facebook, Reddit, Instagram, and TikTok.
Why Sell Your Feet Pics?
Considering selling feet pics is the easiest way to make a lot of money, there is no reason to not sell them. Here are a few motivations to convince you why it isn't really a bad idea.
Selling feet pics does not mean you have to go nude, or disclose your face. While you are selling your feet pics, you can remain completely anonymous. Moreover, you won't find anything seriously formal or improper about selling your feet content.
The online marketplace for selling feet pics is growing rapidly and selling your feet content can become a highly profitable side hustle.
The profit you can earn by charging for your feet pics is insane. Before you realize it, selling your feet pics will become your full-time independent business where you are the boss of yourself that gets to decide everything.
How to Determine the Right Price?
A bunch of factors will help you determine how to charge for your feet pics. You can take these factors into consideration to set a bar that is neither too high nor too low.
Understanding the Customer
Know who the customers are and what they're looking for. You can do this by carefully observing the kind of content they pick out from your profile. Some of your content would be selling like hotcakes while the rest would go out casually. That is a clear indication that something about some of your feet pics is what people are looking for. Price them more than average. And try to make the type of content that's catered to your customer.
And remember, if the buyer asks for customized content, you'll have to include all the extra expenses in your final fee. At times, you can compromise on the grade of your picture, in other cases, you'll have to deliver the highest grade picture you can produce. The more effort that goes into making them, the higher you can charge for your feet pics.
The Platform Where You Sell
While selling on a website, keep an eye on the average rate that goes around. You can't be charging too low or too high for your feet pics. Websites like OnlyFans don't have very high rates for selling feet pics. The reason being that there is already a lot of saturation one these platforms, so buyers can always choose someone else over you if the charge for your feet pics is too much.
Bigger sites like Shutterstock, Craigslist, etc. which are not focused on selling feet pics or other similar content are where you can charge for your feet pics at a higher price. These sites  also demand that you have a better quality picture. You should enlist your best pictures in the right place so you can correctly charge for your feet pics.
Type of Feet Pics
Unfair as it may be, some feet types sell more than others. The curvier your feet, the higher you can charge for your feet pics and the more they will sell. Some people have really flat feet which can't be priced very high since they don't go out as easily.
Also, the backgrounds and themes you choose for a picture also impact how high you can charge for your feet pics. If you are doing something intricate, like posing professionally, in quirky scenes, or using compliments, etc., you can charge your feet pics higher than when you are taking casual pictures.
How Much to Charge for Your Feet Pics?
Given the above factors, how much you charge for your feet, and pics will have a huge impact on your net earnings and demand in the market. So try to be careful how you charge for your feet pics. If you price your feet pics right and post consistently, you can earn more than $400 every month easily and even more if you bring something unexplored to the table every time.
You have to know what counts as good quality and how much to charge for your feet pics when they are selling successfully. In the end, it all boils down to your skill.
Read more related articles: