Tips & Tricks To Sell Feet Pics on FeetFinder
What are some of the Tips and Tricks to sell your Feet Pics on FeetFinder? We have shared everything to help you sell your Feet Pics on FeetFinder effectively.
FeetFinder is an amazing website where you can start making money selling your Feet pics and videos.
Are you looking for ways to maximize your earnings on FeetFinder? Selling feet pics is a great way to make money online, but it can also be competitive. You can boost your profits and make the most of your time and effort with the right strategies and tips.
Here are the best tips and tricks to help you maximize your earnings on FeetFinder and make the most of selling feet pics.
From setting up the perfect profile to finding the right clients and marketing your services, these strategies will help you get the most out of your feet pics sales. So, let's get started and maximize your earnings on FeetFinder!
Setting Up an Engaging FeetFinder Profile
Your profile is the key to making sales on FeetFinder. Prospective clients will see your profile and decide whether or not they want to contact you. Therefore, you want to make your profile as appealing as possible so that potential clients will notice your feet pics and wish to contact you.
To make your profile appealing, you want to ensure your high-quality photos show off all your best features. You can also include details about your services and experience, so potential clients know more about you and may choose to contact you instead of another seller.
Another aspect of your profile that can have a significant impact is your name. Make sure it's catchy and memorable, and try to find a word related to feet or shoes. For example, a name like 'Shoetopia' is better than 'Shoey' or 'Shoeshine.'
Having an amazing FeetFinder Bio Ideas could help you convert visitors into fans.
Promoting your FeetFinder Profile: Tips and Tricks:
One of the big issues with creators is they often have no idea how to promote their FeetFinder profile, so there are some platforms where you can start promoting and selling your Feet pics and videos.
You can use the following social media platforms to sell your Feet Pics and videos and get more fans:
Using Reddit to promote your FeetFinder page: Reddit is an amazing platform where you can find a lot of Foot fetish users. There are some communities like r/feet, r/feetpics, and r/feetporn where you can upload your Feet pics and videos and have a FeetFinder page link in the Bio of your Reddit.
Using Instagram to promote your FeetFinder page: On Instagram, you can get orders in your Instagram DMs and by using your FeetFinder page in the Bio of your Instagram, you can direct your fans to your FeetFinder page.
You can also use other social media platforms like TikTok, publishing your Feet pics on Shutterstock and other stock photo sites.
You can also message people on FeetFinder:
The best thing about FeetFinder is you, as a creator, can message Buyers. FeetFinder has millions of people interested in buying Feet Pics.
Here is a screenshot of the Buyers list on FeetFinder: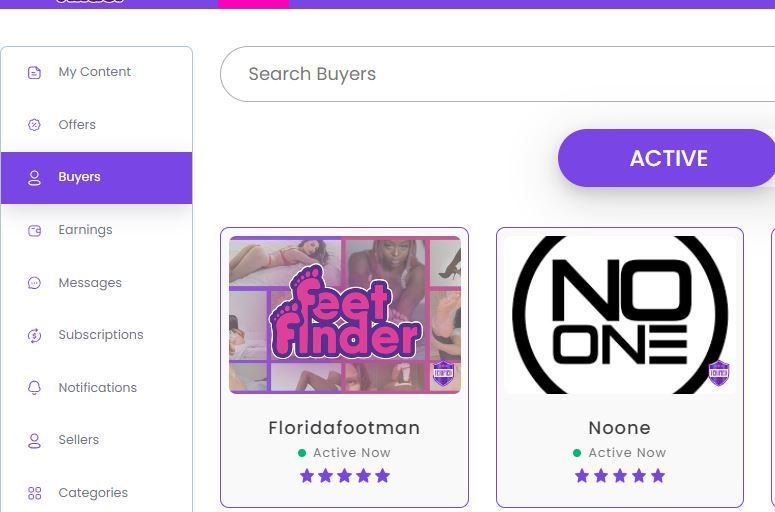 This is one of the best Tips for creators actually to don't promote themselves on other platforms, but they can also just message people on the platform and get more sales.
Finding the Right Clients
When you first set up your feet pics selling profile, you may want to find 100 clients and market to them all. But it's far more beneficial to target one or two clients and work with them exclusively, as this will maximize your earnings.
Do your research and find the types of clients that are most likely to buy feet pics. For example, some of your best clients may be grandparents, friends of friends, and co-workers with the money to spend on foot pics.
Another tip for finding the right clients is to search for keywords related to your services. For example, if you sell feet pics of women, you may want to search for phrases like 'women's feet' and 'his feet.' Ensure you find keywords related to your services so potential clients can easily find what they are looking for.
Creating a Pricing Model
As with any other business, you'll need to set up a pricing model to charge your clients. This will help you determine how much you should charge for a feet pic. Keep in mind that if you set the price too low, customers may be turned off as they think they are getting a steal.
On the other hand, if you set the price too high, you won't have any sales at all. Set your price based on the market price for feet pics and consider the cost of taking the photos, editing them, and uploading them onto FeetFinder. As your experience increases, you can adjust your pricing model to make more money.
Also read: How much to charge for Feet Pics and videos?
Taking Engaging Feet Pics
Now is the time if you've never taken a foot pic. Set up a tripod, a camera, and lighting so you can take your best shots. Take several photos of each foot, ensuring you show off the best features of your subject's feet.
Another tip for taking better foot pics is to find a pose that shows off your subject's best features and smile at them so the photos come across as more natural. If your client is willing to be in front of a camera, ask them to hold one foot up in the air so you can get a better angle. You can also ask your clients to put their feet up on a table while relaxed so that you can capture them in the right pose.
Promoting Your Services
When you first start selling feet pics, you may find that the best way to promote yourself and your services is to show them off in your profile and foot pics. But as your experience increases, you may find it more effective to start a social media campaign to promote your services.
You can set up a Facebook page for your business and use Facebook ads to drive traffic. You can also use social media to promote your campaign on Reddit and Instagram.
Another way to promote your services is to create a landing page to collect information from your clients, such as their names, email addresses, and phone numbers. You can then use these details for follow-up emails, allowing you to connect with your clients more personally.
Offering Discounts and Special Deals
Another tip for boosting your earnings is to offer discounts and special deals to your clients. For example, if your client wants three feet pics, offer to sell them four or five pictures for a reduced price.
You can also refer your current clients to their friends and family members. If someone you have sold to before offers to buy another foot pic, offer to sell them one for free. These are just a few ways to offer special deals and discounts to boost your earnings and increase your profits per client.
Read How to Use Cash App to Sell Feet Pics?
Networking with Other Sellers
Another great way to boost your earnings is to network with other sellers on FeetFinder.
Find other sellers nearby and send them a private message on Reddit or the FeetFinder forum. Networking with other sellers can help you boost your earnings and earn more money.
Using Social Media to Market Your Services
First, ensure your social media profiles are age-appropriate and not too suggestive. You want your social media profiles to look professional and show off your business, not trashy and lewd.
Once your profiles are set up, you can use them to share your latest foot pics, praise your clients, and engage in conversation with your followers. Make sure you use social media to drive traffic to your profiles, boost your follower counts, and engage your followers. You can also use social media to promote giveaways and competitions.
For example, if you host a competition for your best foot pics, you can use Reddit and other social media to promote them. You can also promote your sales on Reddit.
Read 11 Best Feet OnlyFans Creators To Follow
Utilizing Reviews and Testimonials
One of the best ways to boost your earnings is to utilize reviews and thorough customer testimonials on your profile. Then, when potential clients look at your profile, they will see your thoughts and testimonials, boosting their confidence in buying your services.
Staying Up to Date with Industry Trends
Finally, one of the best ways to boost your earnings is to stay up to date with trends in your industry. You can learn more by reading blog posts, articles, and other content related to your industry.
This will help you stay informed about the latest trends, which you can use to boost your earnings. These are just a few tips and tricks for growing your profits on FeetFinder, and they will help you maximize your profits and make the most of your time and effort. So, are you ready to start making money selling feet pics?
PS: FeetFinder Tips and Tricks to Sell Feet Pics:
FeetFinder offers a lucrative way to earn money. Therefore, it's essential to market yourself and showcase all of the talents and skills that you have to offer. You can also post your profile on job boards, websites,s, and local businesses.
With your demonstrated expertise and experience, you can grow your clients. If you don't have any clients to show off, you can post your profile and wait for someone to contact you about selling foot photos.
Read more related articles;