FunWithFeet Income: How Much Money Can You With FwF?
FunWithFeet income: How much can you earn selling Feet Pics and videos on FwF? This is a beginner guide for anyone curious about this platform.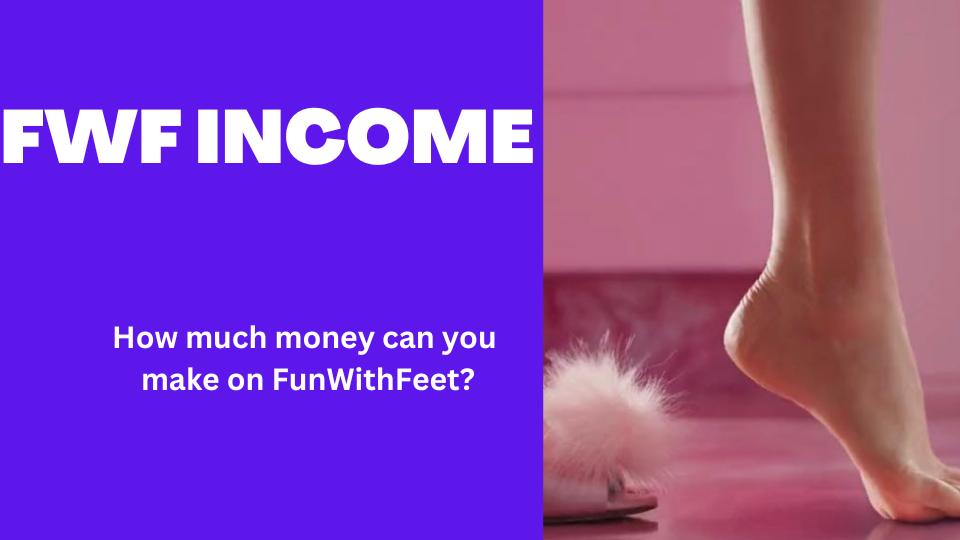 When you look up FunWithFeet reviews, you always get a mixed bunch. Some sellers claim they've never made a penny, though they have lost $200 to a scammer.
Others have happy encounters of selling pictures worth $2000 per month.
What is the actual average income from Fun with Feet? How much can you earn monthly from selling feet pics on the platform?
We went on an internet deep dive to find out.
How Much Can You Earn Per Month on Fun with Feet
The most prominent proof of income on Fun with Feet comes from Chrissy, who spoke with Insider about her experience (the creator made this much money on FeetFinder)
She made, on average, $5000 per month on FeetFinder.
During the first six months of her stint, she would engage in casual conversation with her followers. The chats would rarely be about feet or anything sexual.
Her customers genuinely wanted to know her. If they followed her from free feet photos, getting a glimpse of her personality made the feet pictures worth paying for.
This income is possible because Chrissy spends 5 hours per day:
Creating custom content
Mailing used socks
Chatting with her clients.
Sweet Arches, another seller, makes $6000 per month. Although her chosen platform is not Fun with Feet, it does illustrate the possibilities of selling feet pics.
Sweet spends 10 hours a day refining her pictures. She also takes on video requests, which include crushing a McDonald's cheeseburger with her feet.
For a seller with low commitment, the monthly income falls somewhere around $1800 to $2500.
Debbie provides the most comprehensive breakdown of her pricing.
$10 for a single photo
$20 for a bundle of 3 pictures
$50 for 5 to 7 pictures
$40 for complicated feet poses
$100 for 30-second videos, especially if it includes the face
$60 for worn shoes, along with shipping charges
$200 for shipping used socks
Keep in mind these are prices for established sellers. Debbie falls in the mid-tier range. If you are starting at Fun with Feet, you can expect $0 in your bank account for the first month. When you remain active and continue to upload free and paid photos and videos, expect $30 every month from selling six collections at least.  As you upgrade your pricing from $5 to $10, this turns to $50 per month. Eventually, your collections sell at $30.
Your monthly income from Fun with Feet is $180, and you are earning another $300 on the side from custom requests and tips.
The thing about platforms like Fun with Feet is that once you gain traction, the earnings triple in a marvelously short time.
FunWithFeet is not the right platform for anyone looking to sell Feet Pics. The best platform for anyone is FeetFinder.
Sell Feet Pics on FeetFinder
FeetFinder is the No.1 platform to sell Feet pics. Over 1 Million+ Feet creators sell their Feet pics on FeetFinder. You can make money on FeetFinder through different ways like selling Feet albums, getting paying subscribers, making money through getting a Tip, and working for custom orders.
Sign-up For FeetFinder
5 Ways to Earn Money on Fun with Feet
Fun with Feet does not have a commission fee. Any money you make on the platform is solely yours.
They do have a subscription program for sellers. You can pay $9.99 for 3 months or $14.99 for six months of access.
For the 3-month plan, your cost every month would be $3.33. If you opt for 6 months, you will have to spend merely $2.50 monthly.
The subscription price is nothing compared to the opportunity to earn back from the following methods.
1. Selling Feet Photo Collections
Feet photos sell anywhere from $4 to $25, depending on the reputation of the seller.
The new sellers price their collections with more than five photos at $5. At the same time, the experienced ones can earn $30 from one free photo and a paid video.
Create collections with all kinds of pricing and photo mixes. Some should have ten photos at $15. Other albums can have seven photos and 1 video at $20.
When your customers start buying from you regularly, you price the album for its actual worth.
2. Custom Content
Loyal customers will start sending you custom requests sooner or later.
Mainly those who took the time to chat with you. They almost always send video requests. It can range from asking you to apply nail polish to stomping your feet on the ground.
While quoting a price for your video, remember to count the amount you have to pay to arrange the props, lighting, or even the cost of the pedicure. Sellers hardly go lower than $60 for custom videos. At the same time, the most anyone charges for the special request is $500.
Anything which costs upward of that is probably a wish so outrageous the seller can't fulfill it anyway.
3. Receiving a Tip:
Fun with Feet has a tip system. In fact, if a buyer wishes to text you, they have to pay $3 first.
They could send you random amounts with no bottom or higher cap on the platform. A buyer could be so happy with you they can send $1000 as a tip.
How to earn the tip? It occurs naturally.
It is generosity on the buyer's part. Some may send tips as an advance payment for their custom requests.
You will also get a truckload of scam messages. $3 is not enough to deter fraudsters from contacting unsuspecting sellers. Do not head over to another platform.
They will claim they have sent your tip on PayPal or CashApp. But you will have to pay a transaction fee to get it.
Transaction fees are never on the receiver's end. Any time someone claims so, know it is a scam.
4. Affiliate Program
Get fellow sellers or buyers on the platform and get a commission from Fun with Feet's earnings.
They will provide you with an affiliate link you can promote on your social media or personal blog.
If you convince a seller to join the platform, you will get 20% of the subscription fee. Although, it is only valid for the first 12 months of subscription. Buyers don't pay a subscription fee on the platform. However, they do spend money by purchasing content from sellers.
Any time the buyer spends money on a photo or album collection, you will get 5% off it. This is valid as long as the buyer is active on the platform.
5. Sell Used Foot Wear/Garments
People with foot fetish tend to have a thing for dirty or smelly feet.
They want to smell something you wore, be it your sneakers, stockings, or socks. Let's go back to Chrissy. She earns $500 from mailing used socks to customers. Debbie earns around $60 to $200 from it.
You have to factor in the cost of shipping while setting a price. Always ask for advance payment for mailing socks or other foot garments.
You don't want your items to go home to someone who decides to scam you ultimately.
Sell Feet Pics on FeetFinder
The No.1 platform for anyone looking to sell Feet pics and videos. You can make money on FeetFinder by getting paid subscribers, selling Feet albums, making money through getting a Tip, and getting custom orders. FeetFinder has one Million creators selling Feet pics and hundreds of thousands of creators making a full-time income.
Sell Feet Pics on FeetFinder
How to Become a Seller at Fun With Feet
Fun with Feet is fairly straightforward when it comes to seller sign-up.
Creating an Account
To join their gallery of over 1,000 creators:
Click the menu bar at the top left of the page.
You will have to enter your details, such as the Display Name, age, gender, ethnicity, and profile photo.
On the next page, they will ask you to upload an ID proof.
Verified, you can now add a payment method. Segpay, Paxum, PayPal, and CashApp are some platforms you can use.
Next, you will pay the subscription fee.
It is advisable to go for the 6-month plan for $14.99. You save about $5, and it can act as a deadline. You don't get around to making $300 per month in the given time? You could evaluate if you still want to sell feet pics. But if you have already earned back what you spent on the subscription and then some, it is a sign for you to keep going.
You can cash in when you reach $50.
For a strong start, upload three albums on the first day. Click a month's worth of pictures and videos beforehand.
You will have an endless supply of content to upload while you get the hang of the site.
Filtering Process
New sellers on Fun with Feet have a chance at more exposure than other platforms.
Buyers will mostly see sellers they follow on their dashboards.
However, if they use search to look for new sellers, they get the option to sort between "Recently Joined" and "Just Listed."
Recently Joined refers to sellers who created their profile seconds ago. Their first album shows up on the search.
Just Listed means old sellers who added a new collection.
You can target more buyers by adding charisma to your username and bio description.
Buyers could filter according to ethnicity, gender identity, and foot fetish category.
Add those keywords in your description. If your pictures have high heels, stockings, and something to do with foot worship, mention it all.
Seller Guidelines
Unlike some of its competitors, Fun with Feet is censorship-free. Both sellers and buyers have to be 18 years of age. And so, almost all feet fetish content is acceptable. Save for anything which violates the law.
While there is no stated rule, Fun with Feet does encourage sellers to add watermarks to their pictures. It prevents clients inside and outside the platform from using your pictures without consulting you.
Well, it's wrong to say it stops them. However, it does give you the power to bring them to court.
Wrapping Up: Fun with Feet Monthly Income
If you are a new seller, you can dream about earning $500 from Fun with Feet monthly. For veteran sellers, we hope you are en route to earning $2000 per month already.
While we found the top sellers earning about $60,000 per year, it doesn't mean you can't aim higher. The platform has been around for less than 3 years.
It is getting daily seller and buyer sign-ups. New clients equal more opportunities for income.
You could also use your Fun with Feet account as proof to earn extra from other social media platforms.
Better FunWithFeet Alternative: Sign-up For FeetFinder
FeetFinder is the No.1 website for anyone looking to sell Feet Pics and videos. You can make money by sell Feet albums, getting subscribers who pay you a monthly fee and can receive a Tip. You can also make a lot of money getting custom offers from creators.
Sign-up for FeetFinder