FunWithFeet Bio Ideas: 15 About Me Ideas For Your FWT Profile
What are some of the best FunWithFeet Bio Ideas? If you are looking to optimize your FunWithFeet profile and convert every visitor into a fan. We have discussed this in detail and shared some examples of what are some best bio or about me ideas for your FWT profile.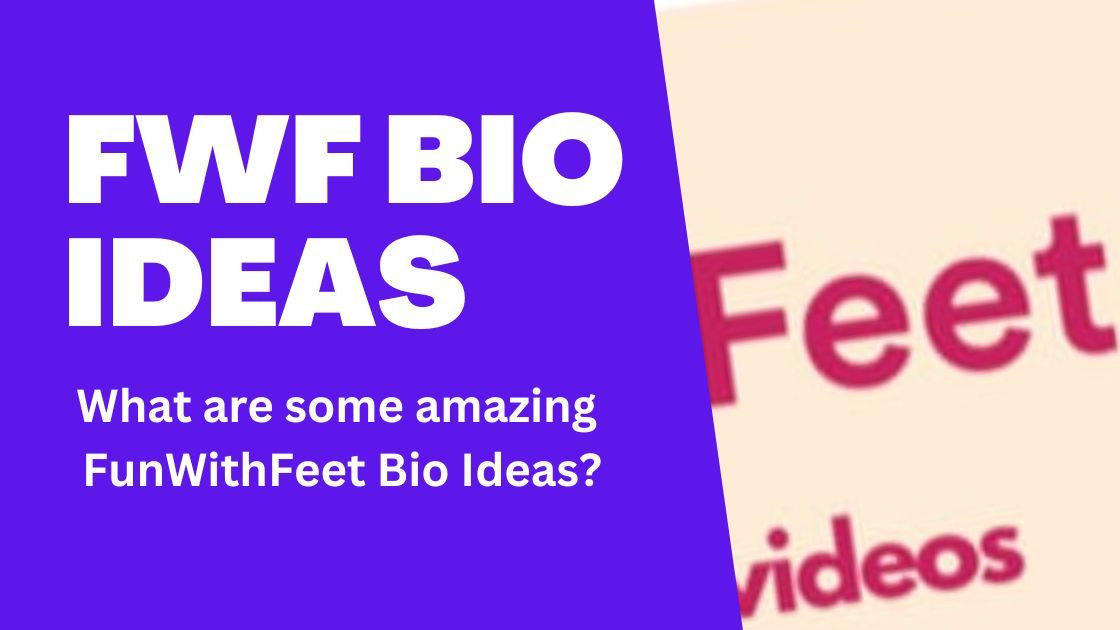 FunWithFeet is one of the best websites where you can sell feet pics. The platform gives you many opportunities to promote your content and boost your sales. But before that, you'll need to set up a good profile that is both in line with FunWithFeet requirements and that reflects your own style and content as well.
One of the many things you'll need to care about while you are selling on FunWithFeet, is your bio. This FunWithFeet bio is something like a one-liner describing you and your content. Of course, you can make it as long as you want. You can divide it into sections where you explain things in more detail. However, to get started, you might be wondering what constitutes a good bio.
There are a number of ways you can go about writing your bio. It is up to you to decide how you choose to mold it into something reflective of your unique style. There are a bunch of factors that make your FunWithFeet bio a good bio. Below you will find everything your bio should be and everything it shouldn't be. Also, you can find some ideas that will help you write your own FunWithFeet bio.
What is a FunWithFeet Bio?
A bio is a short description of yourself on your FunWithFeet profile, that usually appears below your username. This bio is the first thing potential buyers will notice when they visit your profile. It presents you with the perfect opportunity to introduce yourself or your feet. You can also talk a little about how you care for your feet to invite the interest of buyers.
Your FunWithFeet bio can make it or break it for you so make sure it is something enticing that will get you many buyers. Once you start getting buyers, you can expand your content little by little. But make sure your FunWithFeet bio shows everything that your content is.
Your FunWithFeet bio makes the first impression on buyers, as it shows people who you really are. What you put on your bio dictates the traffic of buyers on your profile. This is how buyers decide why they should care about what you are offering. The motive of your bio is to pique the interest of all consumers.
Is FunWithFeet the best platform to sell Feet Pics?
No. FunWithFeet isn't the right platform for you to sell Feet pics and make money. There are other platforms like FeetFinder where you can make money selling your Feet pics and make money through different ways.
On FeetFinder, you can make money by getting paying subscribers, selling your Feet albums, and getting a Tip from your fans. They have over 100,000+ creators on their platform selling Feet pics and millions of fans.
FeetFinder has paid millions this year to creators and you could build a sustainable business around your content.
And you can do this by following some tips below.
What Makes a Good FunWithFeet Bio?
A number of things can be done to make your FunWithFeet bio unique and eye-catching. You'll be surprised how following simple tips can start earning your more buyers.
Easy to Read
Your FunWithFeet bio should be easy to read. It should not be complex or written with bad grammar. Use some common phrases and refrain from using intricate and difficult vocabulary. This is because not all of the buyers on the site are well-versed in English. If you aim for something too difficult, they won't even understand what you have written.
Moreover, writing big words will only reduce interest. Using slang and Internet acronyms is always the best thing to do. However, do not rely on acronyms too much. If your text is too rich with incomprehensible short forms, buyers will find it no better than gibberish and leave immediately.
Adding Keywords to your FunWithFeet Profile:
FunWithFeet uses keywords to determine which content creators are relevant for which consumers. Keywords can be some words buyers use or may use in order to find you or the feet content you're offering. Instead of browsing through a gazillion profiles that are unrelated to their interests, by typing up keywords, they can search for relevant profiles and reach yours sooner.
If you don't use keywords, chances are, buyers will never see your profile. They won't be able to reach out to you and make a purchase. Using keywords in your FunWithFeet bio helps the website promote your content as well. By using keywords as a category, your profile can be listed in relevant places. So even if the buyer didn't search up a keyword, they can choose a category and still manage to find you there.
Convey a Tone
When you create a profile on FunWithFeet, you should try to establish a unique style of your own. This means that you don't have to keep following trends or things that every other person does. Even if you choose to do so, you should bring something new to the table by adding a bit of your own style to it.
What your FunWithFeet bio needs to do is that it should be able to capture the tone of your feet content. Your bio should depict if you are going for something naughty or fun or whatever else ideas you may have. You can try multiple themes but don't forget to capture everything in your bio. While you're at it, try not to make things too contradictory.
What to Expect
It is crucial for every creator to immediately let their buyers know exactly what they should be expecting. This means you can't rely on ambiguous statements. You'll need to be as clear and direct as possible with the buyers. If the buyers aren't sure about what they should be expecting after reading your FunWithFeet bio, they would leave and prefer someone that they can be certain about.
You must also avoid exaggerating and state things exactly as they are. If buyers are disappointed by your content compared to what you promised, they won't be coming back to buy your content. The same goes for lying. Don't lie about the type of content you are offering. It would not just hurt your reputation as a seller but can also lead you to lose your sales completely. If you think your content isn't enough on its own, advertise it in a raunchier way.
Keep It Short
This is the one thing you must absolutely be mindful of. Do not let your FunWithFeet bio be too long. Buyers don't want to read essays when they are deciding who to go for. They want you to be as precise as you can be. And although there may be a lot of detail that you want to go into to describe exactly what you do, long reads simply aren't the most fascinating thing in the world.
What you can do instead is you could summarize everything in a genius one-liner. You can then go on to explain these things separately. If your one-liner catches the attention of a buyer, they'll click on your profile to read the rest of your FunWithFeet bio and know all the details. This is exactly what you want. Once they've gone through the details, they will want to see the real thing. And that's when you get the chance to shine.
What Not To Do in a FunWithFeet Bio?
While you're feeling comfortable writing a good bio for your FunWithFeet profile, you'll need to keep certain things in mind that you absolutely must not do. These things might seem trivial at first but can have a huge impact on your sales.
Don't Share Personal Information
You might be getting carried away when you are writing your bio for your profile. You might be thinking it is better to go into as much detail as possible about everything but that's where you are wrong. You must be careful not to give out any information that could identify you. If your social media accounts are dedicated to the same content, you may link them in your FunWithFeet bio but otherwise don't even think about letting anyone know your real handles.
Your name, location, address, etc., are all meant to be kept under wraps. You can share stuff like your hobbies without being too specific and going into the details. You can also talk about the products you use for your feet pics and how you accessorize. But anything that compromises your anonymity is off-limits.
Don't Write a Lengthy or Repetitive Bio
Even if you are trying to use as many keywords as possible to make your content as relevant as possible, don't forget that there's a limit to what you can write. Going on and on in your FunWithFeet bio won't help you much if buyers don't find the read interesting.
One thing to keep in mind is to not be repetitive. Don't write what everyone else writes. If you can incorporate something sexy and funny in your explanation, all the better. The goal is to make sure the reader doesn't get bored midway and leave without buying anything. If you are offering more than one service, for example, if you sell videos as well as feet pics, or if your content covers more than just feet, remember to mention all that as well.
Although you might want your profile to be dedicated to one major theme, it doesn't hurt to enlist everything else that you do too. On that note, don't go for something too short, either. If your FunWithFeet bio covers everything you do without relying on a bunch of paragraphs, that's about enough text.
11 Best FunWithFeet Bio Ideas
If you are still unsure as to how to get started with writing your FunWithFeet profile bio, here are a few ideas that you can use and mold to your own style.
1. Follow me for the naughtiest feet content.
This FunWithFeet bio is short and precise. Buyers will know immediately that they can expect naughty feet pics and videos in your profile. These consumers will be those that are comfortable with adult-exclusive feet content.
2. I love you; you love feet. Wanna have a chat?; come take a seat.
Being creative is all about putting a fun spin on simple things. This FunWithFeet bio shows your fun, cheeky side while also being very honest. Buyers will love the straightforwardness in this bio.
3. Have a treat with my fetish feet pics. Tips are always welcome.
This FunWithFeet bio is very direct and welcoming. Buyers will know that they can request content as they want and will keep coming back for more.
4. My sweet and lickable soles will make you have wet dreams.
This FunWithFeet bio is very kinky and inviting. Buyers that are looking for something like this will find such a bio very captivating. Since many creators focus so much on toes, soles are a good thing to go for.
5. Hey there! Welcome to the world of the kinkiest feet content ever.
This bio is straightforward but also very inviting. Buyers that are looking for a diverse range of content will know this is it. If you are focusing on many different styles, this FunWithFeet bio is for you.
6. Hi! I am (name). And I'm here to sell you my feet pics/videos.
Sometimes buyers want something simple and exclusive. They don't want to go into the details of what you can or cannot do. This leaves them with a window to request specific content and keep coming back for more.
7. I love my feet. And so will you.
This bio shows confidence. Buyers will get the feeling that you want to share your best feet content with them, which makes this sort of FunWithFeet bio very inviting.
8. My standards are high, and so are my feet content.
Giving the buyers a sense of dominance isn't bad at all. And you can instill that sense into your bio by writing like this. Some will find it arousing enough to keep buying your content.
9. Your dreams just came true because you just found me.
This is a very smart way of telling the buyers that you have what they are looking for. Your content is enough to make them stop searching more and start buying yours.
DM me to get your dirtiest desires fulfilled.
Yet another straight message sent to the buyers. This FunWithFeet bio is compelling in that it doesn't beat around the bush when describing what there is to offer.
Here's your hot serving of the kinkiest feet content in town.
This bio is pushing itself on the buyer, something they simply can't ignore. Buyers will check your profile before leaving and will surely come back.
FunWithFeet Bio Ideas
It might not seem very easy to come up with a good FunWithFeet bio, but by using these ideas and bringing in something of your own, you too can create a compelling bio that will drive the buyers to you and boost your sales.
Read more related articles:
Sell Feet Pics on FeetFinder
FeetFinder is an amazing website for anyone looking to sell Feet pics and videos. On FeetFinder, you can make money selling your Feet albums, getting paying subscribers who pay you a monthly fee, and receiving a Tip from your fans. FeetFinder is the No.1 website for anyone looking to sell Feet pics.
Sign up for FeetFinder here