Is FunWithFeet a Legit Site For Selling Feet Pictures?
Want to sell Feet Pics on FunWithFeet? In this article, we discussed is FunWithFeet is a legit site to sell feet Pics and start making money.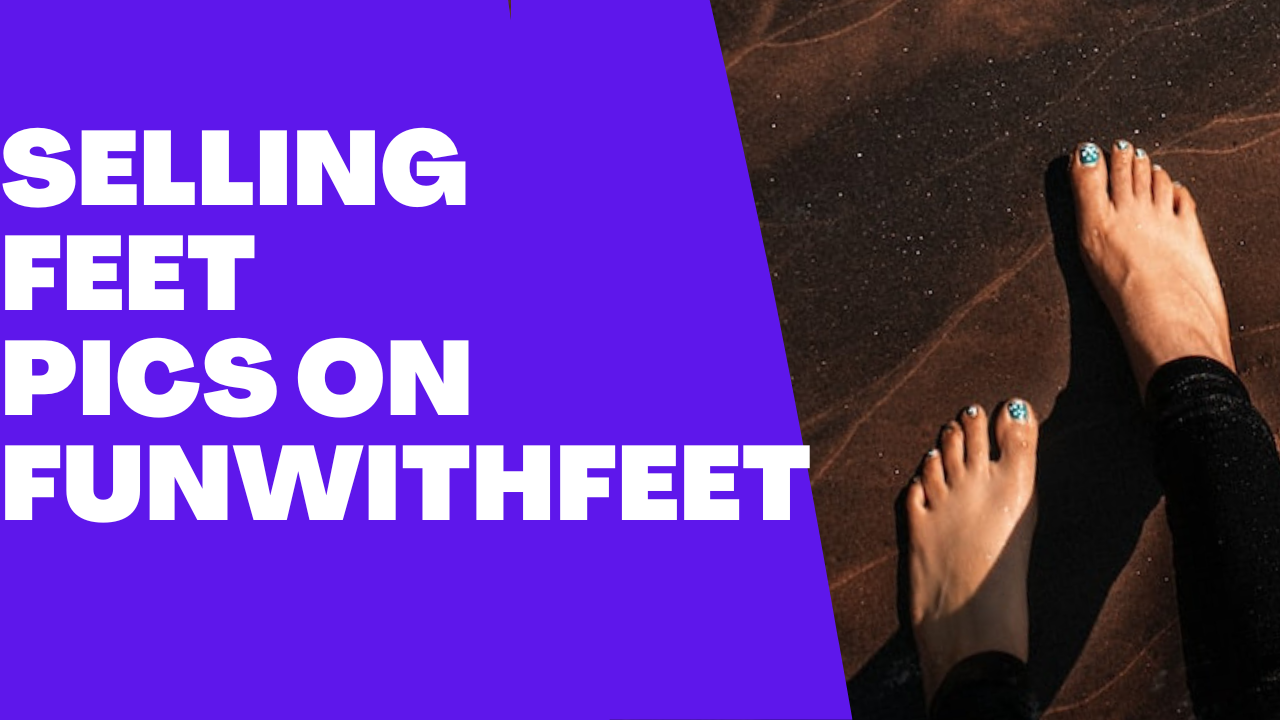 FunWithFeet is one of the most popular platforms for buying and selling feet pictures. It allows its users to browse and buy feet pictures according to their liking.
FunWithFeet is like heaven for people who have a foot fetish. This platform has all kinds of feet pictures that can entertain feet lovers from all categories.
FunWithFeet is a legit and safe platform for selling feet pictures. It boosts your sales while maintaining anonymity. Feet pictures posted on FunWithFeet reach your target audience much faster than any other platform. FunWithFeet has a worldwide audience, and here is a review about the ins and outs of FunwithFeet.
What is FunwithFeet?
FunWithFeet is an online marketplace for buying and selling high-quality feet pictures, videos, and other content. It is a platform on which people can sell photos and profit from the comfort of their homes.
Buyers can browse content by category, negotiate a sale, or request custom content on FunWithFeet. Many feet lovers from all over the world use this platform to please their feet fetishes. This is the reason that FunwithFeet is often considered an alternative to FeetFinder.
How Much does it cost to start selling Feet Pics on FunWithFeet? FunWithFeet works very differently. They charge a fixed amount to use their platform to sell your Feet pics. For example, you can pay $9.99 for the three months and $14.99 for the six months of selling your Feet pics.
Can I earn money by selling feet pictures on FunWithFeet?
Yes, you can! The best thing about FunWithFeet is that it lets you set the price of your picture according to your liking. Once you pay for a membership, the platform takes no commission, and you enjoy 100% of your income.
FunWithFeet helps you earn money instantly as all your sales are deposited in your FunWithFeet wallet and can be withdrawn anytime.
Who can sell feet pictures on FunWithFeet?
Anyone comfortable with clicking pictures of their feet can get into the business of selling feet pictures. You need not be a foot model or have extremely pretty feet. It is to be noted that FunWithFeed only allows people 18 years old or above to sell photos on their platform.
FunWithFeet is a completely legit platform, but there are other alternatives like FeetFinder.
On FeetFinder, you can make money by selling your Feet pics and make money. They are a way better alternative for anyone looking to sell the Feet pics.
What kind of feet pictures are the most popular on FunWithFeet?
People who have a foot fetish are looking for all kinds of Feet pictures. These range from pretty to not-so-cute-looking feet. Each kind of picture has its audience. However, the dancing feet picture is more popular than the others. One can earn a lot of money by clicking pictures of their feet while dancing.
FunWithFeet is a legit website for content creators to start selling their Feet Pics. There are other better Alternatives to sell your Feet pics of FunWithFeet, like:
Sell Feet Pics on FeetFinder
You can sell your Feet Pics on FeetFinder and start making money. FeetFinder is one of the best sites to sell Feet pics by uploading your Feet albums and pricing them. A Feet album is a one-time product that could be sold unlimited times. You can also make money by paying subscribers a monthly fee to view your content. Your fans can also give you a tip. Sell Feet Pics on FeetFinder here.
FeetFinder is a way better platform than FunWithFeet, and we made a comparison between FunWithFeet Vs FeetFinder and explained some differences between the two platforms.
What type of feet pictures can I sell on FunWithFeet?
You can sell any feet pictures on FunWithFeet as long as you are at least 18 years old. However, feet pictures including the following items attract a larger audience and have higher sales:
Tattoos,
Jewelry, such as toe rings and anklets,
Socks,
Sheer stockings,
Barefoot on the beach,
High heels,
Fancy pedicures,
Nail paint,
Boots,
Fishnet,
Toenails.
What are the Trustpilot reviews for FunWithFeet?
FunWithFeet has a rating of 4.4 out of 5 on Trustpilot, indicating that this platform's users are very satisfied with its services.
Out of the 26 reviews posted on Trustpilot, only 23% of users have given a 1-star rating to FunWithFeet as they could not post their photos on the platform.
How can I sell my feet pictures on FunWithFeet?
Selling your feet pictures on funwithfeet.com is pretty easy. You must create your profile and share it to become visible to all potential buyers.
FunWithFeet recommends creating a mix of free and paid content with custom collections so buyers can easily locate the content they are interested in.
FunWithFeet is the perfect platform for building a Feet-obsessed audience, as it only charges a minimal listing fee of $3.33 per month for selling feet pictures. The FunwithFeet membership allows sellers to create listings on its sister platform, ' AllThingsWorn.'
The subscription fee charged by experienced FunwithFeet sellers is $10-$15.
Who buys pictures of feet on FunWithFeet?
People who have feet fetishes are the major buyers of feet pictures. It is because of these people that buying and selling feet pictures came into existence and is becoming an increasingly popular way of earning money. You can make this side hustle successful by selling feet pics on FunwithFeet.
Other than that, certain movies require foot videos and models. You would be surprised to know that the market extends beyond people with foot fetishes and movies. Many bloggers, manufacturers, podiatrists, and journalists use Feet pictures to promote their products or content.
I am sure most of you would have seen advertisements for shoes or lotions with perfectly manicured feet sitting on a beach.
Doctors and professors who study foot diseases need Feet pictures to create awareness regarding these diseases. These pictures help in explaining the condition to patients and students in a much better way.
FAQs:
1. Can I sell feet pictures legally?
Yes, it is legal to sell feet pictures online as long as you are 18 years old and above and have full ownership of the images.
2. Where can I sell pictures of my feet?
FunWithFeet, Feetpics.com, OnlyFans, InstaFeet, Feet lovers only, and Feetify are a few registered websites selling feet pictures.
3. Why is FunWithFeet so popular?
FunWithFeet has become very popular because it is a safe and easy-to-use platform. Sellers like it because they reach a very large audience through FunWithFeet.
Buyers enjoy it because it is very user-friendly and has sellers willing to cater to various requests.  
4. How to take good feet pictures?
You need the following equipment to be able to get expert-level feet pictures:
Professional camera,
Tripod stand,
Ring light,
A great in-home pedicure set,
Baby foot peel.
5. Why should I sell pictures of my feet on FunWithFeet?
Selling feet pictures on FunWithFeet can prove to be a good side hustle. You can't beat the convenience, flexible schedule, the comfort of your own home, low start-up costs, the ability to remain anonymous, and the extra money that comes with selling a few pictures of your feet on this platform.
6. Tips for how to take good feet pictures?
Clicking pictures of your feet doesn't require a lot of effort. You can do it from the comfort of your own home. However, one must keep a few things in mind to attract more buyers.
If you are planning to become a permanent feet picture seller, you need to incorporate variety in your pictures. The more variety you have, you will likely become a successful feet pictures seller.
You can create a versatile profile by taking pictures from different angles. This helps in providing a variety of views for your potential customers. Some people with a foot fetish are more interested in looking at other people's toes, whereas some may find the sole more intriguing.
Feet that are free of imperfections like blemishes, scars, etc., are ten times more likely to attract customers. So it would help if you kept your feet well-groomed and free of imperfections as much as possible.
Good lighting and props can also make your feet look more attractive. So make use of nail paints, socks, stockings, and jewelry to attract more buyers.
P.S. Is FunWithFeet a legit site for selling feet pictures?
Yes, you can make a handsome amount of money from FunwithFeet. Based on reviews on different websites, it seems that FunwithFeet has the most legit setup for feet lovers and all feet pics sellers out there.
If you are good with pleasing feet enthusiasts and know how to build feet obsessed audience, then FunwithFeet is probably the perfect place to cash your feet content.
Read more related articles: