How To Sell Your Feet Pics With FunWithFeet?
How can you make money selling your Feet Pics on FunWithFeet? This is a beginner guide for Feet creators to start making money on FunWithFeet.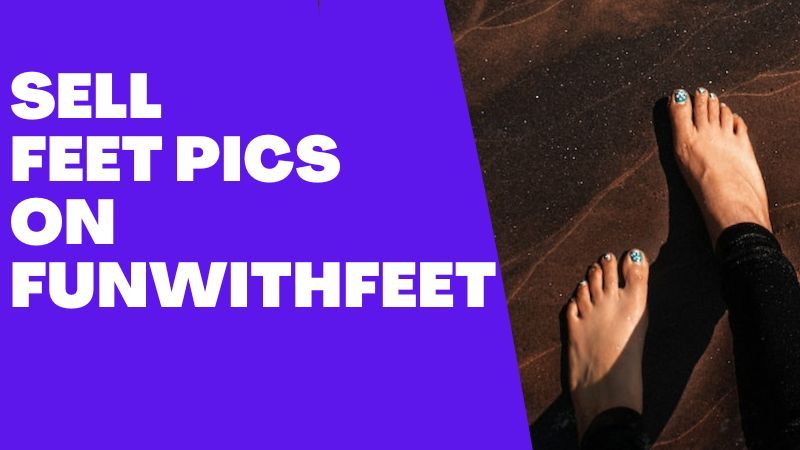 If you are interested in selling your Feet pics, what platform can you use to sell your Feet pics? Out of other options, one of the options is to sell your Feet pics with FunWithFeet.
Do you love getting compliments from feet lovers or want to make a good income by selling Feet pics?
Well, we would like to introduce you to a new and secure website in the Feet fetish market, often referred to as an alternative to Feetfinder. It's time to add another website to your list of platforms where you can sell and promote your feet pics.
FunWithFeet is the right platform if you want to get spoiled by feet lovers. However, sellers can buy feet pics for any purpose, but feet fetish is the major category on FunWithFeet. Let's see what else you can do with FunWithFeet.
How to make money selling feet pics on FunwithFeet?
FunWithFeet is by far the most straightforward and user-friendly feet fetish website. Anyone can sell feet pics by following these steps.
1. Create a Feet seller profile on FunWithFeet:
Register as a seller and feed your details like your stage name, age, email address, account password, brief description, ethnicity, sex (all genders can sell feet pics), category, foot size, and country. Your profile photo can be anything: your feet pic, your face, or both, or you may choose to show as little or as much as you want.
You can also choose to answer interview questions, and we can help you with sales. It also helps buyers know better about you based on how you answer the questions.
After getting your account approved, you must pay a membership fee of $9.99 (for three months) or $14.99 (for six months).
2. Upload paid and free content
Add a captivating bio that entices your visitors and motivates them to subscribe to your profile.
You can upload paid and free Feet pics and videos on your profile. Visitors will only get to see unlocked pictures and videos. Buyers may choose to subscribe to your profile to unlock your exclusive foot content or only pay for a single foot pic.
While uploading feet pics, you must add the product name, product description, keywords, and price. We use this information to help buyers search for you and increase your profile discoverability.
3. Share your profile and make money getting fans:
Your hustle is incomplete if you are not putting in the effort to market your FunWithFeet profile. Share your profile or social media handles to get better exposure.
Marketing your FunWithFeet profile will take time, and you need to ensure that you promote your Feet pics at the right places to get the right audience who pay to buy your Feet pics.
Is FunwithFeet legit and safe?
Yes, the website is 100% legit and safe. You can share as much or as little of your information to sell feet pics on FunwithFeet.
The website maintains your anonymity and can still help you get potential buyers based on the information you have shared on your profile. FunWithFeet only uses your personal information to support you with its services so that you can enjoy all its features.
However, unpaid visitors will only be able to look into your profile, bio, and unlocked Feet posts and tip you. They can also message you to order custom feet pics and chat with you.
It's worth mentioning that FunWithFeet also helps users to chat and connect and promote their feet pics business. So the platform prioritizes the security of all your chats and personal information to maintain its good reputation.
👉
FunWithFeet is an amazing website, but the best website to sell your Feet pics is FeetFinder. On FeetFinder, you can start making money selling your Feet albums, getting paying subscribers, and making money through getting tips.
Sell your Feet pics on FeetFinder here
.
What is some expert advice for FunwithFeet sellers?
As mentioned earlier, FunwithFeet is the most user-friendly feet fetish website that genuinely cares about its sellers and buyers. To help them give the best exposure, here are some pieces of advice for all FunwithFeet sellers.
Add a theme-based collection. You can add a collection of different elements that can entice feet obsessed audience. For example, a collection of feet pics in pantyhose, while getting a pedicure/foot massage while giving a foot job, etc.
Being confident can help you feel sexy while you click your pictures. You must love your feet and don't neglect to embrace them in your captions and pictures.
Your seller profile should give a diversified look. Try listing pictures of your other body parts sometimes, such as your face, neck, hands, boobies, and big ass, to entertain people who have mixed fetishes.
You must maintain a balance between paid and unpaid posts to entice visitors who were there by chance but couldn't get back without subscribing to your profile.
What are some popular feet fetish categories on FunwithFeet?
Some feet fetish categories that can help you make faster sales on FunwithFeet are;
BDSM, boots, dancing feet, pantyhose, and footjob.
FunwithFeet can also help you browse your feet pics based on ethnicity, increasing your discoverability chances. Latina, Ebony, Indian, Asian Mixed, and Arab are popularly bought in ethnicity-based Feet collections on FunwithFeet.
How much can I make from FunwithFeet?
You can make more than $500 every month on FunwithFeet. But of course, there is no limit to how much you can earn from FunwithFeet.
The average seller on FunwithFeet charge a subscription fee of $10-$15. However, a single paid post is usually listed with prices that range between $10 to $30.
FunwithFeet is a new feet fetish website created in 2022, so you might experience delays in sales, or it might take your time to make an average Feet income from FunwithFeet. Make sure there's a balance between your paid and free Feet posts listed on your profile to leave an inviting impression on your visitors.
How much does it cost to sign up for FunwithFeet?
It is free for buyers, and sellers must pay a small membership fee to list their feet pics. The membership fee will cost $9.99, valid for three months ($3.33/month). A 6-month membership will cost you $14.99.
How do I get paid on FunwithFeet?
A FunWithFeet wallet can help you get paid instantly. You can link a third-party payment method with your wallet to transact your balance to it.
FunWithFeet never collects or archives the records of your credit card details and your balance. So, you can trust the website with all your account details. However, we will suggest you only link e-wallet payment methods.
FAQs: How To Make Money Selling Feet Pics on FunWithFeet?
Why sell feet pics?
Well, your sexy feet can be someone's reason to be obsessed with you. Yes, some people have a foot fetish, and they are willing to pay you top dollars for a single feet pic.
So let's now miss the chance of making income from this side hustle and start selling your feet pics on FunwithFeet.
How can I earn from FunwithFeet?
You can earn from FunWithFeet by selling paid and custom feet pics. You can also make extra income through tips and subscriptions.
The average subscription rate of feet pics sellers on FunWithFeet is $5-$15.
Can I speak with buyers outside FunwithFeet?
No, it's not recommended to connect with buyers outside FunWithFeet to prevent getting scammed. Anyone who gets caught violating it will get their account restricted on FunWithFeet.
What keywords should I use to rank on FunwithFeet?
Here are some categories that can help buyers browse your profile using filters.
BDSM
Arched
Cummy
Dirty
Dancer
Lotion
Stocking
Toe
Sandals
Footjob
Boots
Measuring
BBW
Fishnet
Soles
Tattoos
Soles
Mature
High Heels
Granny
What is the best alternative to FunwithFeet?
FeetFinder is a renowned top-class foot fetish website and is considered the best alternative to FunWithFeet.
FeetFinder has more recognition in the feet fetish world than any other platform. It has more users and benefits for them if compared to FunWithFeet.
Who can sell feet pics on FunwithFeet? Can guys make money selling feet pics?
Yes, male feet models can also sell their feet pics on Funwithfeet. Any gender belonging to any ethnicity who is 18 or older can sell feet pics on it.
FunWithFeet is a fairly new website where Feet Content creators can start making money selling their Feet pics. FeetFinder, which is a potential site for anyone to start making money,

Read more related articles: