How To Sell Feet Pictures On Instagram?
How you can sell Feet Pics on Instagram? This is a beginner guide for anyone interested to sell directly or indirectly their Feet Pics on Instagram. Instagram is one of the best platforms for promoting your FeetFinder or OnlyFans Feet pics and getting more fans from there.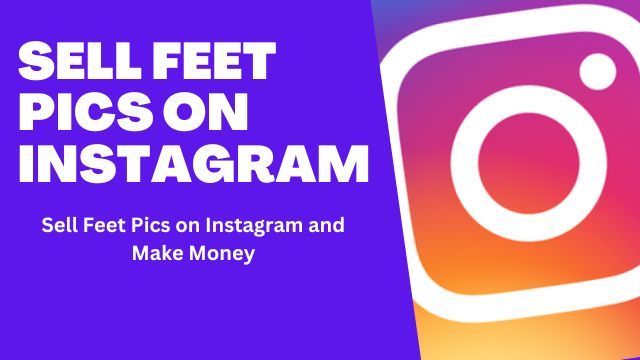 How can you use Instagram to sell Feet Pics? In this article, I have explained how you can use Instagram to sell your Feet Pics. Some of the Feet creators use Instagram to sell their Feet pics directly, while others use it to promote their FeetFinder or OnlyFans profile.
Selling Foot pictures on Instagram is a great way to increase your online presence and reach a wider audience. Use attractive feet pics as your profile picture, have a username related to "Feet Pics" in it, and an optimized bio with details such as how to contact you.
Instagram also offers businesses and individuals tools to increase visibility, reach a wider audience, and drive sales. However, a brief guide will simplify the way to sell your feet photos on Instagram.
How can I sell foot photos on Instagram from the ground up?
Go through some easy steps to sell your foot images and earn more.
Establish a company Instagram account:
To gain access to Instagram's business capabilities, open an Instagram account with a username that matches your brand or business and a business profile. Establish an Instagram company account to check analytics and ensure that your foot photos are working successfully.
It is critical to use photographs you have captured. You must create a new Instagram account if you wish to remain anonymous and distinguish your photo-selling business from others. As the ultimate aim is to produce money, it is essential to approach the situation with a business attitude.
Establish a following
Utilize relevant hashtags, communicate with followers, and frequently publish to attract new followers. The trick is to be active and consistent.
Make a timetable for the coming week so you know when and what to post. Regular posting is essential for increasing interaction and following.
Settle your pricing.
Choose a pricing plan that takes into account quality, time and effort, and demand. When selling foot photos on Instagram, it is vital to choose a price that is appropriate for the target demographic. It is also important to be true about how much you expect to make.
Use high-quality images, captions, and hashtags when sharing photos to reach a bigger audience.
Hiring professional photographers is a great way to catch the attention of modeling scouts. Use a cellphone with a quality camera and get an expert photojournalist's assistance.
Engage with your followers.
Engage your followers to build relationships and trust. While selling foot photos on Instagram, don't forget to keep recent trends in mind. It is critical to copy current trends and add your spin to them. This may enhance engagement and revenue. Thus it is vital to follow content providers that specialize in foot photos.
Make the following changes to your photos.
There are several photo editing programs available. But you may also use Instagram's editing features to get the desired appearance.
Make it simple for customers to buy
Instagram's purchasing function allows users to buy photographs directly from the app.
Last but not least, orders must be filled quickly and professionally! You have to give outstanding customer service.
The Best Platform to Sell Feet Pics and Videos:
FeetFinder is the No.1 platform for anyone looking to sell their Feet pics and videos. It is the platform where you can make a lot of money.
On FeetFinder, you can make money:
You can sell your Feet pics albums. An album is a one-time created product that can be bought unlimited times.
You can get paying subscribers on your FeetFinder page. A paying subscriber pay you a monthly fee in order to view your content.
You can also make money by getting a Tip from your fans.
You can use Instagram to promote your FeetFinder page and get more subscribers and build a sustainable business around your content. Sell Feet Pics on FeetFinder here.
Self-protection tips as a seller
Although selling foot photos is profitable, you must be cautious.
Avoid using your personal phone number and email ID- It is better to have a new contact number and create an email only for selling purposes. You should also create a different social media account.
Choose a fake name- Do not let buyers know your real name. Your fake name will protect you from scam buyers.
Hide your face- Your photos must not show your face. There should be no mirrors in the room where you snap photos.
What are the reasonable rates for foot pictures?
Setting prices for feet pics is important for new sellers, as it will help you set your prices and create packages that include x number of feet pics for an amount.
Although, fixing rates for selling pictures on Instagram can be tricky, as there is no one-size-fits-all approach. Most commonly, sellers charge around $5 to more than $100 per foot pic. On average, a single-foot image costs $15 to $25. Be creative while setting the price. Start with a low rate and slowly increase it.
Some factors to consider when setting your rates:
Quality: High-quality and visually stunning pics can lead to higher rates than lower-quality or less visually appealing pics.
Effort and time: The amount of time and effort it takes to create a photo may lead to higher prices than if it is done quickly and easily.
Type of buyers- Are you selling your foot photos to a blogger, pharmaceutical company, branding agency, or others?
The platform where you sell- From iStockphoto to Dreamstime, several options are available.
Value proposition: Pics should offer unique benefits or advantages to their target audience, allowing them to charge more than generic or less targeted pics.
You must connect a third-party payment link to Instagram services and bio. With the growth of your business, you can configure it on a different app. Ensure automation of the payment process. Compare a number of apps to choose the right one for your needs.
You can start by selling your feet pics for a small price (suppose $10 for a photo) and increase your rate when your sales are on the rise. Use the best tactic and offer bulk pics for a comparatively low price to attract customers' attention.
Researching and understanding the target audience and market demand can surely help you set rates to reflect value and effort. Experiment with different pricing strategies and adjust rates over time.
Is it legitimate to sell your feet photos on Instagram?
There is nothing illegal about selling feet pictures on social media or Instagram. You must have a Business account. In case the photos are sexually explicit, there is a risk of illegitimacy. If you think of sharing other people's pictures, you should take your permission from them and avoid copyright issues.
In addition, you must have enabled Instagram shopping on your profile and have been approved by Instagram. To do this, you should check the latest Instagram community guidelines.
You don't have to be a Foot Model to Sell Foot Pics!
You do not require being a professional model to sell foot pictures on social media. Instagram has versatile monetization tools to help you reach millions of people with relevant hashtags.
Grow your Instagram account to reach more of your target audience
Grow your Instagram presence and reach a larger audience with these ideas:
Publish on a constant and regular basis: Post high-quality content regularly and use a content calendar or scheduling tool to schedule pieces.
Interact with your fans: Interact with fans to create connections and trust.
Use the following hashtags: Hashtags can help businesses gain exposure and acquire new consumers.
Collaboration with other accounts: Work with other Instagram accounts to gain a wider audience.
Make the best use of Instagram features: Stories, Reels, IGTV, and other features can help businesses engage with their audience and reach new users.
Interpret your data: Integrated analytics tools of Instagram help you improve performance and customize content for higher engagement.
Partner with other accounts: Collaborate with other Instagram accounts to reach a larger audience.
How should you utilize hashtags?
While creating a corporate account for foot photographs, it is vital to check the chosen hashtags for your images.
Instagram allows you to link your social media profile to the target audience. There are also hashtag generation tools to tag photographs with business-oriented and other relevant hashtags.
The platform gives you space to use up to 30 hashtags. Nevertheless, using 5 to 10 is recommendable to prevent appearing spammy.
What are some popular poses to sell feet pics?
You can be creative while deciding on the poses. But the most common ones are-
Candid pose: Shoot your feet photos and keep your natural poses. Ensure proper lighting is maintained for better image quality.
Arched Feet- This one is a popular pose for feet photos. You may also combine them with your flat feet photos for an attractive effect.
Close-ups of your feet: To get the most attractive snapshot of your feet, experiment with different viewpoints and angles.
More options for poses
Point your feet in the air
Feet placed apart
Feet shown crossed
Pointed-out toes
Feet coming out of your duvet
Why should you sell foot photos on Instagram?
Whether you have a flair for photography or graphic design, or if you are interested in generating and selling digital content, selling images on Instagram may be a terrific way to generate money. Here are some reasons why you should sell photos on Instagram:
It is an excellent area to sell photography, artwork, and other visual assets.
The large user base proves the immense popularity of Instagram. So, this platform increases your selling opportunities.
It allows users to sell images on their own time and at their own pace, making it an excellent choice for those who work from home or have other obligations.
The software enables you to create a side hustle or small company without making an initial investment.
It is a simple approach to building a company profile and selling content. Instagram users may sell their content directly to their followers, removing the need for third-party platforms or marketplaces.
How can you avoid scammers?
Instagram is a terrific platform to establish a company, but be wary of fraudsters and jerks. It is critical to only sell to people you can trust, to read their bio, and to insist on getting paid first. You may even blur your photos using picture editing software and offer to give originals after you've been paid.
Never give more than the necessary information when setting up a payment processing system. Open an Instagram business account, and keep it professional.
PS: How to sell Feet Pics on Instagram?
Instagram is a great place to earn a passive income by selling foot pics. More than 800 million internet users use the social media platform. The free sign-up option lets you create a business profile easily.
You can build your follower base and grow your business. Additionally, you can target a particular group of users who are interested in what you're offering. So, Instagram is a good platform for starting different businesses while staying at home.
It has increasingly become a trend to earn money on Instagram. Earlier, the platform was simply a source of entertainment. It is easy now to learn the process of selling foot pictures online on Instagram.
You can earn a big amount even with minimal knowledge about this business. Several Instagram users have started selling foot pics, and companies want to purchase foot models for various reasons. So, follow the guide we have provided above and achieve ultimate success.
Read more related articles: