Is Selling Feet Pics Dangerous? Is It Safe To Sell Feet Pics Online? A Guide For Beginners
Is selling Feet pics dangerous? This is a beginner guide to selling your Feet pics online and making money safely. We have shared some of the tips and tricks to sell your Feet pics without getting scammed.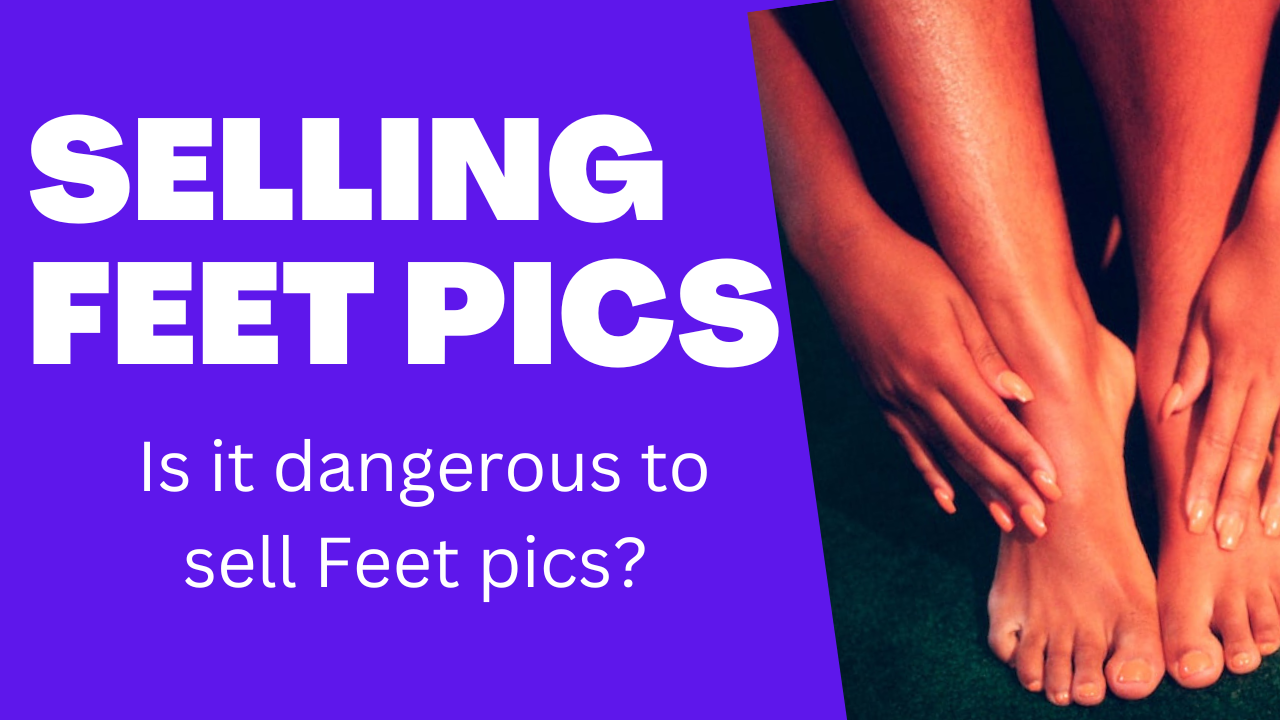 If you are interested in selling your Feet pics online, you might also be cautious about selling them as it might be dangerous in a way that someone could steal your content or find your identity.
The general rule of the Internet of being anonymous is that if your facing isn't showing, you don't have to worry, but there are a lot of other things that you should keep in mind while uploading your Feet pics to be safe selling your Feet pics.
No, not at all. It only includes as much as the risk you take to upload pictures on any social media app. In fact, It doesn't include your face, body, or any sort of nudity, that you actually post confidentially on your public social media accounts.
It's just your feet, and that's it. However, they are not just feet-for-feet lovers but a source of sexual pleasure for them.
So if you are comfortable posting your pictures on social media, how come selling your feet pics can be dangerous? Let's dig in to find out if you should be scared of selling feet pics.
Is it illegal to sell feet pics?
No, not in every case. Selling feet pics is a legal and safe way to earn online. However, it would be best to consider the following points before stepping into this.
You should be 18 or older to sell your feet pics.
A valid ID card for account approval.
You should have original content and own the copyrights.
Not a tax defaulter.
If you fit in all the above situations, you can sell your feet pics online. However, in most Asian countries, it is considered against their religion, and you cannot access the feet pics selling platforms.
So, if you are living in one of those countries, it's illegal and dangerous to sell your feet pics through any means. You might have to serve a severe penalty in that case.
As long as you fit in all the above situations, and it's not contradicting your country's law, you can legally sell your feet pics.
Are there any risks or cons of selling feet pics?
Though it's one of the lucrative sources of income, it involves a few risks you should be aware of.
However, I would also state that these risks don't justify that selling feet pics is dangerous. Every job you do involves minor or major risks; the same goes for selling feet pics.
Here are some risks you might face while selling feet pics.
A buyer can track your home location if you are getting paid directly into your bank account.
Some apps and websites are scams; they might even freeze your account and use your balance.
Some platforms allow buyers to charge back. And there's nothing you can do about it.
Your feet pics can be used on any platform, including porn websites.
Fake payment receipt.
Content theft.
Fake clients.
Pros of selling feet pics
The Feet pics business doesn't require a high budget for the startup. Many feet pics selling platforms allow you to list feet pics for free.
Selling feet pics can land you top dollars because of its demand and could be your passive source of income.
An online part-time opportunity and is still lucrative like a 9-5 office job.
You can build your own brand by selling feet pics.
Feet pics can help you earn anonymously.
There is a feet-obsessed audience who even pays sellers $1000 per pic. Apart from that, you can still make more than $300 in a single month.
There are many websites specifically built to entertain feet lovers, that give your business whole new exposure and growth.

What should I do to sell my feet pics safely?
Technically, you cannot avoid all of these risks completely. However, a few of them can be avoided in the following ways.
Sell your feet pics through legit platforms
Don't sell your feet pics through local mediums such as WhatsApp, Facebook, or Instagram. However, you can use these apps to gain followers and influence your new buyers to gain trust.
The apps are intended to connect with people only, so selling through them is not legit. Instead, there are apps that are created for selling feet pics. Their registration policies only let potential buyers get in.
Some legit platforms for selling feet pics are Feetify, Feetfinder, OnlyFans, Instafeet, Foap, Shutterstock, Feetpics.com, etc
It's not like a mark on the stone that you cannot be cheated or scammed on these apps. However, they are safer as compared to social apps.
Don't share your bank account details.
Many websites ask for bank account details to credit your account with your earnings. I would never recommend you share your bank account details. Instead, you can feed in your online wallet details.
Use a secure payment method
Receive your payments online instead of directly into your bank account. You can use either the payment methods suggested by the platform you use or choose from below.
PayPal, Segpay, Venmo, Wise, Skrill, Payoneer, etc
It saves your content from getting stolen. Watermark every foot pics and video you post or previews you send to your client.
That doesn't mean you should start asking your buyer personal questions. Search for your buyer on other platforms and especially on social media apps.
Don't share personal details.
Don't share your details with your client. Be formal, and your discussion should only revolve around the deal you will make.
Some buyers ask for a refund, claiming they accidentally sent your extra money. This is just a scam. They will even show you a fake payment-made receipt. Don't get into the trap; check your account balance and verify the case.
Release the order after you receive the payment
Don't send anything except your feet previews unless the payment is made. Your previews should also be watermarked.
Don't ask for any personal favor.
Don't get too informal with your client asking for any favor, such as adding a positive review before submitting your work.
Keep your feet anonymous.
Selling feet pics isn't considered a decent way to earn. So, it would be best if you kept your feet anonymous. Also, keeping yourself anonymous will help you keep your social apps unlinked to your account.
What are some safe websites to sell my feet pics without getting scammed?
Selling feet pics is not dangerous if you sell them through these platforms.
Feetfinder: No.1 site for selling your Feet Pics and Making Money:
You will have to buy a subscription to list your Feet pics. Other premium plans can help you market your services. FeetFinder is the No.1 platform for anyone looking to sell their sell Feet pics. You can start making money selling your Feet pics and videos by creating an album and letting your fans pay for it.
On FeetFinder, you can also make money by getting paying subscribers as well as you can also receive Tips from your fans.
OnlyFans is more like an adult website, but people also use it for entertainment. You can not sell your feet pictures on OnlyFans. However, you can earn through a subscription and by uploading feet pictures.
The platform is only for selling feet pics. However, you can earn through subscriptions and by selling feet content.
What are some safe payment methods?
You can get paid using these online payment methods. Make sure you can use these apps for selling feet pics in your country.
PayPal
Wise
Venmo
Payoneer
Skrill
Cash App
Why sell your feet pics?
You may wonder if selling feet pics involves few risks, why people choose it as their source of income.
Well, it has a lot of demand in the fetish industry if you are aware of feet fetish.
You can earn around $400 and more in a single month as a feet pics seller.
Many platforms for selling feet pics increase the chances of earnings.
P.S.: Is selling feet pics dangerous in 2022?
No, selling feet pics isn't dangerous. However, every job has some minor and major cons, and so is with selling feet pics.
These risks can be ignored if you sell your feet pics through legit platforms like Feetfinder. The platform offers a secure setup to all its users by authorizing payment methods and carrying out ID verification to approve registrations. Hence, there's no chance for scammers to get into your DMs.
You must also not share your details with clients and receive payment before releasing your order. To prevent content theft, you should also watermark your feet previews.
Read more related articles: