How To Sell Feet Pics on Twitter? A Beginner Guide
Sell Feet Pics on Twitter either through DMs or by referring your fans to your FeetFinder or OnlyFans page. Twitter is a very underrated platform for selling Feet pics and making money.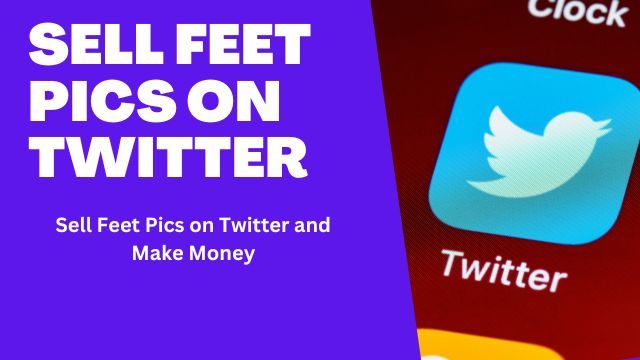 Want to sell Feet Pics on Twitter? This is a beginner guide for anyone looking to sell their Feet Pics and wants to make money. Twitter is a very underrated website when it comes to selling something. It is a platform where you can find high-net-worth individuals.  
You can sell Feet pictures and videos on Twitter by either selling them directly in your DMs or by selling them on different platforms like FeetFinder, OnlyFans, and others Foot fetish platforms.
Foot fetish isn't new, and people aren't embarrassed to admit it. Take Quentin Tarantino, for example. He's made some of the most dazzling, unforgetful movies and still continues to do so. In the middle of an elaborate concoction of pop culture, violence, and profanity, it just so happens that some lovely feet find their way into his movies.
We wondered for so long what it was with Tarantino and feet until he finally gave a straight answer. He isn't shy to admit it, and his actors don't seem to be bothered about it. The best part about it is, that these shots of feet don't even mean anything, they are just there for the fun of it.
Now the real question is how one can make such a thing profitable. Feet pics are one way to do it. Selling feet pics online isn't uncommon. Many models (over at OnlyFans) sell their feet pics online and make quite a bit of dough. There are a bunch of places you can head to sell your feet pics, and Twitter is one such place where you can find a lot of consumers and a place to promote yourself and your content. As for how to sell feet pics on Twitter, here are some useful tips for everyone.
Top 9 Tips to Sell Feet Pics on Twitter
Despite being a sexual fetish, Twitter doesn't ban feet pics. That means there are plenty of opportunities for people to sell their feet pics on Twitter.
1. Twitter Does Not Pay
Unlike YouTube, Twitter doesn't pay the users anything even if they gain a considerable fan following, it is merely a sharing platform, and regardless of what kind of content you put on it, Twitter isn't bound to pay you a penny.
If you want to sell Feet Pics on Twitter, by just uploading content on Twitter, you can't be getting paid but you can use Twitter to promote your Feet pics and sell them to your fans either directly or indirectly.
As such, merely posting a dozen albums of your feet pics, regardless of how lovely they may be, isn't going to earn you a dime.
Instead, Twitter does is that it allows you to publicize and promote other channels, websites, or something of the sort. This is one reason why so many OnlyFans models use Twitter to promote themselves. What you can do is post a few pictures and then post links to other accounts or websites where you can sell your feet pics. Twitter won't stand for obscenity, but if you take it outside, there won't be any problem.
In short, Twitter can be your go-to billboard where you post about everything you're doing or planning to do. It is an excellent place to promote and advertise your content.
2. Get Twitter's Super Follow Feature
Twitter's Super Follow is a feature that was announced in February 2021 and is essentially a paid monthly subscription from the company. According to the social media giant, the feature entails that people can get access to bonus content by the creators, exclusive previews, and other perks as a way to connect with people. This feature comes in handy when it comes to selling feet pics on Twitter.
Once you've amassed a considerable fan following on Twitter, subscribe to get the Super Follow feature which lets you restrict your content to paid subscribers only. Twitter offers various subscription packages, some of which are options ranging from $2.99, $4.99, to $9.99.
Of course, you wouldn't want to opt for this feature straight away. First, you'll need to establish your presence. Once you've gained a loyal fan following, that's your cue to subscribe to Twitter's Super Follow feature. This feature is especially important for those who want their selling business to be strictly on Twitter and not on any other external website or source.
3. Take Orders in DMs
If you'd rather not subscribe to Twitter's Super Follow feature for whatever reason, you are left with a singular choice of using Twitter as your platform for promotion. This might not be enough for many people. There's nothing to worry about, though. There is another thing you could do to get paid for feet pics via Twitter.
Start taking orders in your DMs. The whole process, obviously, won't be as simple as just that, but once you get the hang of it, you'll realize that it is a profitable way to sell your feet pics.
After promoting your content and posting teasers on your feet, offer your fans to buy exclusive feet pics. They'll head over to your DMs to get these pics after they've paid whatever amount you've set up.
This isn't the most surefire way to get some dough as Twitter DMs aren't exactly moderated. If it turns out that you never received the payment, you can't complain anywhere or get compensation. It's a given that you'll need to remember these things on your own and act accordingly.
Sell your Feet Pics on FeetFinder:
FeetFinder is the No.1 platform for anyone looking to sell their Feet pics and videos. On FeetFinder, you can make money by getting paying subscribers, selling your Feet albums, and make money through getting a Tip from your fans.
The following are some of the stats about FeetFinder:
FeetFinder has over 100,000+ creators.
They have millions of fans or people with foot fetish looking for Feet pics and videos.
They have paid Million of dollars this year to the creators.
It is the most trusted website to sell your Feet Pics.
If you are selling Feet pics on Twitter, you can direct your fans or viewers to subscribe to you on FeetFinder.
4. Research Your Buyer
Always know who you are dealing with. Well, perhaps not quite literally, but you know enough to be able to trust them with your feet pics.
Regardless of whether you are selling your feet pics through your website or some other account, or through Twitter DMs, make sure the buyer isn't someone that could potentially use your pics to later harass you or use them in some other harmful way.
In some cases, there might be no way to tell if you can trust the buyer or not, but it always helps to go through their Twitter profile or get their payment method verified.
Don't be too hasty when making the trade. The only exception might be when you've subscribed to Twitter's Super Follows feature, in which case you can rest assured that only your loyal followers who have already paid have access to your feet pics. Moreover, since this is a feature provided by Twitter, you can expect moderation, and if some follower does seem suspicious in some way, you can get help from the platform.
5. Watermark Your Feet Pics
Don't let your pics be used without your consent. This is quite common when we are talking about the porn industry. And your content may be stolen by someone as you go down the line. To prevent that, make sure you watermark your pics.
Watermarks are a great tool for asset protection. They come in handy when you need to protect your images and visual files from being stolen and used or altered without your permission or consent. This watermark could be a logo, a piece of text, or your signature superimposed onto your feet pics. These watermarks are typically transparent, so those viewing your Feet pics on Twitter can still admire them. Moreover, it helps to identify the original owner through the watermark too.
If you fear that your pics might lose their sales if you start putting in watermarks, try to approach the matter subtly and position your signature watermark in such a way that it neither obstructs nor diminishes the charm of the picture. Still, putting a watermark does not ensure that your pic won't get stolen. In many cases, it is a matter of seconds to remove your watermark and use your pics without worry. If anything, excessive watermarks only serve to degrade the value of your pictures.
The bright side, though, is that these watermarks serve to spread your signature or name, which is, in and of itself, a way to promote yourselves and your content to places where you couldn't even imagine (which might be the most optimistic way of putting things).
6. Avoid Familiarizing with Followers
Be professional when approaching clients about your Feet pics. You do not want to give anyone an incentive to bully or harass you in the future with a seemingly harmless piece of information about your personal life that you yourself imparted to those quite honest folks. It always helps to separate your business and your private life.
Try not to unveil your address, social media handles where you only hang out with friends and don't do business, personal information regarding your life, other people around you, etc.
It might seem like you are putting up too much of a guard, but in the odd chance that your feet pics should get stolen and used where you'd rather not have them, any information that leaks out with it would find its way back to you in a way that you perhaps won't be too fond of.
As such, it is better to be careful when giving out any sensitive information. Be vigilant about your accounts since you'll be dealing with so many people that you don't know anything about. This also means that instead of using your bank account to receive payments, you should use online payment methods.
7. Invite Interest
To ensure your feet pics are picked up readily, and you get many customers, you'll have to adopt a number of strategies. What you want is for your follower's interest to be piqued so they'd have no choice but to buy your feet pics.
The first step is getting noticed. Once you've pedicured your feet into a nice little visage, try to capture them from interesting angles. Make sure the background is simply genius. Try to accessorize often, trying out new things every once in a while but don't forget that simplicity is the ultimate beauty.
Once you've taken care of the aesthetic side of things, remember some marketing tricks. Using catchy captions, teasers, and proper hashtags while you're on Twitter is crucial to get noticed. Don't rely on profanity alone, be creative in how you entice the readers.
To increase your sales, advertise your content through teasers to pique the curiosity of your followers. But make sure that the stuff you deliver is always worth it so that your fans keep coming back to buy your feet pics.
8. Post Memes
Not all of your followers are jumping to slide into your DMs so they can buy your feet pics. It simply isn't enough for people to stick around. Instead, what you need to do to ensure your followers are having the time of their lives is you can entertain them. And what better way to provide quality entertainment than through memes?
Memes are the gateway to happiness. By posting relevant memes, you let your fans in on the humorous, light-hearted side of you which gives them a sense of relatability with you. That would bring your fans closer to you.
This is an excellent way to make sure your followers don't leave after making a single purchase. You can grow your business considerably by posting a mix of content. You can also share some inside tips about skincare you use for your feet which may seem trivial but can show that you are putting in some effort to bring your content to your fans.
9. Setting the Right Price For Feet Pics:
Last but not least, set your rate after thinking about it. Do not expect your fans to be so extravagant as to spend a whole fortune to catch a glimpse of your feet. Be reasonable with the price you set. If your prices are too high, people would just prefer someone else over you, regardless of how good your content may be.
You don't have to set a fixed price for every picture. Categorize your pictures and rate them based on their "goodness". And then let your followers opt for whatever package they want. This means people who can pay more may opt for pricier photos.
PS: Sell Feet Pics on Twitter:
If you do things right, you are in for a great fortune. On average, you can earn around $300 to $500 a month, and that's putting it lightly.
Selling Feet Pics on Twitter is an amazing opportunity for anyone looking to sell their Feet pics. You can make a lot of money selling Feet pics on Twitter, and all you have to do is just be consistent and publish more content.
If you have an elaborate agenda and a good eye for detail, you'll be living lavishly soon enough.
But it doesn't mean selling feet pics is all about the good. Sometimes you have to entertain the risk that your pictures may get leaked somewhere, or they might get stolen, and someone else may be making a lot of profit off your feet too.
Read more related articles: