How to Sell Feet Pics on Reddit? A Beginner's Guide
How to sell Feet Pics on Reddit? Reddit is one of the best NSFW content-friendly platforms with a big audience, especially from the US. You can sell Feet pics and videos by getting a either direct messages or refer your fans to website like FeetFinder or OnlyFans.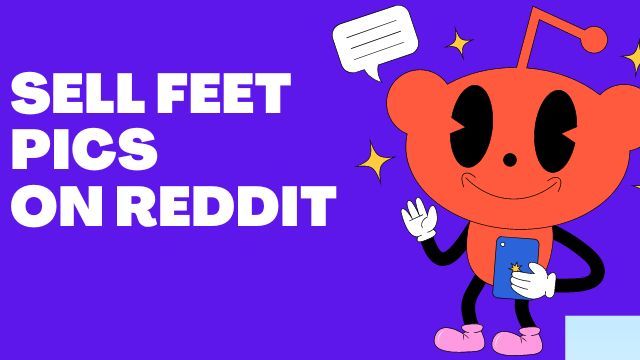 Do you want to sell pictures of your feet on Reddit, the world's largest discussion forum? Good decision!
The world of foot content is no longer limited to foot fetish platforms. It is growing in popularity and demand on almost every website. Foot fetishism is everywhere. Be it Twitter, Instagram, Facebook, or, you guessed it, Reddit!
This blog is a detailed guide to selling feet photos on Reddit and using it as a marketing platform. So, without further ado, scroll down to explore.
Reddit Overview
Reddit is arguably the best discussion site, with over 250 million active users participating in various activities on the platform. Some use Reddit to share their interests, while others scroll through it to stay updated. Some users are models selling and promoting their content, while others are buyers looking for quality content. All in all, Reddit is the perfect venture if you want to hit a target audience.
You may already be familiar with Reddit as a collection of numerous communities known as subreddits. Each subreddit on the forum is dedicated to a specific niche, so users and creators can easily find content according to their preferences. Once you post something in a subreddit, the members will upvote or devote your content based on relevancy, creativity, and engagement.
Your target as a creator is to get more upvotes to increase the reach of your feet' pics and videos. So, if you have decided to sell or promote your foot content on Reddit, it is a win-win situation.
Is it Legal to Sell Feet Pics on Reddit?
Yes, and that is the best thing about Reddit. It has lax community guidelines and allows posting all fetishistic content, including foot pics. However, you must be over 13 to join Reddit as a user and own the copyrights to any content you post on the platforms.
Additionally, it is critical to post in relevant subreddits to reach potential clients. You can not expect to get buyers if you post pictures of your feet in a fitness-related subreddit.
Reasons to Sell Feet Pics on Reddit
Below is a list of reasons you must choose Reddit for selling and promoting your foot content.
Reddit does not restrict posting anything unless it contains illegal or sensitive content. Sexual harassment, for example, as well as suggestive or abusive content.
The platform has a massive user base, with thousands of communities dedicated to the foot niche.
Another reason to sell feet pics on Reddit is the diversity of interests among Reddit users. No matter what type of foot you have or what kind of content you produce, there are chances to attract buyers.
Reddit is not only used by foot fetishists; many foot care or shoe brands and agencies use the platform to find models with attractive feet.
The best thing about Reddit is that it is free to use. You can monetize your feet photos for free and even sell content without paying Reddit anything.
Reddit users have thousands of dollars in their pockets, ready to be spent on high-quality photos of feet.
A Beginner's Guide to Selling Feet Pics On Reddit
Now that we know it is legal to sell photos of feet on Reddit and that there is a large market of foot lovers on the platform, let us learn how to sell your content effectively.
Start with Creating a Reddit Account
The procedure for signing up for Reddit is quite similar to that of other online platforms. Log in using your Google ID and set your profile to NSFW. Next, give your Reddit seller account a unique but relevant display name. Consider including words related to the foot niche in your display name to increase relevancy and reach. For example, marina_feet, pretty_soles, licky_toes, etc.
Next, set an attractive profile picture featuring your feet, legs, or ass to excite the users. To build enduring client relationships, remember you must keep your audience on their toes, regardless of the platform you choose to sell your feet on.
Finally, write a compelling and informative Reddit bio to introduce yourself and your content to the readers.
If you use Reddit as a marketing tool, attach the links to your primary seller accounts on FeetFinder and OnlyFans for promotions. Additionally, to improve the chances of having your profile appear at the top of search results, consider including keywords associated with the foot niche in your Reddit bio.
Read: How to sell Feet Pics on OnlyFans?
The best keywords for foot content include the following:
Feet
Footloves
Footarch
Barefeet
Soles
Feet pics seller
Foot model
Find the Foot Content Related Subreddits
As previously discussed, Reddit is divided into thousands of communities and forums to make it easier for users to find relevant content. Similarly, there are numerous foot niche-based subreddits where users are eager to scoop up quality foot pics and videos. All you have to do is find appropriate subreddits with a large user base and flexible policies for buying and selling feet pics.
Click on the search bar at the top of your Reddit home page to hunt for relevant subreddits. Use keywords related to the foot niche, like foot pics, pretty feet, foot lovers, etc., to find relevant communities.
Now, take some time to read the rules and guidelines of each subreddit, as well as the content posted, to see which ones correspond best with your goals and foot photos. Below is a more detailed review of popular subreddits dedicated to the foot niche.
1. r/feetpics – The number 01 Foot Fetish Community
With over 576k users, r/feetpics is one of the most popular subreddits on the platforms. Anytime you visit the subreddit, you can see hundreds of active users, all set to view your content. However, the moderators of r/feetpics have set up a few rules that every member must follow. They are listed below:
Marketing or selling your feet pics on the subreddit is allowed and not allowed at the same time. It means you cannot promote or sell your feet pics in the title of your posts. Instead, invite the views to DMs and market your FeetFinder or OnlyFans account.
You cannot post price menus, social media watermarks, or screenshots of your seller profiles on other platforms on r/feetpics.
r/feetpics allows you to promote your content in the comment section of your posts. However, promotional comments on other users' posts can result in permanent termination.
All your posts in the subreddit must feature your feet. They should be the theme of your content.
You can upload pictures of your feet wearing socks and shoes, but any blurring, cropping, or hiding of your feet is unpermissible.
To post content in r/feetpics, you must be at least 18 years old. In addition, no discriminatory, abusive, or obscene content is intolerable by administrators.
You can use watermarks, but consider using small and subtle ones.
The titles of your posts in r/feetpics must mention whether the content is original (OC) or non-original (NOT OC).
No reposting or cross-posting in r/feetpics; always bring original and fresh content.
r/feet is another popular subreddit on the platform, with over 362k members. Although the sellers are not allowed to engage in DMs with clients, they can promote their seller profiles on other foot fetish websites in the comment section. You can also sell your shoes, socks, and other goods at r/feet.
The rules of r/feet include:
Only female feet photos are posted to r/feet. No trans or male foot content is allowed.
You cannot post pictures of genitals, body fluids, nipples, dildos, or dicks.
Reposting the same content and spamming it can result in a permanent ban.
No emojis are allowed in your post titles, captions, or comments.
You can promote your OnlyFans, and FeetFinder accounts in the top comments of your posts.
No personal information, like address, phone number, or bank account details, must be mentioned on r/feet.
You can post a maximum of three posts daily on the group.
On r/feet, only post high-quality foot photos and videos.
If you are looking for a subreddit that allows posting of foot content for all genders, including men, women, trans, and non-binary, consider landing on r/feet_NSFW. The group has over 447K members, which is a large number and contains many potential clients. The rules and guidelines of r/feet_NSFW are similar to those of r/feetpics (mentioned above).
Other subreddits that you can use for selling feet pics include:
No matter which subreddit you join to sell your feet pics, it is mandatory to read the guidelines of that group before posting anything. Some communities permit promotions while others do not, so it is better to be informed than terminated.
Engage and Interact with the Community Members
Once you have selected the subreddits that match your goals and preferences, don't go straight into posting and selling content. Instead, be patient and start familiarizing yourself with other members. For example, comment on the posts, initiate discussions, ask questions, and compliment others.
The more you engage with other members, the more they will familiarize themselves with your name. This interaction and engagement will help you get upvotes for your feet pics posted in the subreddits.
Post High-Quality Your Feet Pics and Videos
Now that you have established yourself in the subreddits, post high-quality feet pics with engaging captions. For example, ask questions in the captions of your pictures to initiate discussions. Ask about the favorite angles, pic types, or positions the member likes to get comments and engagement on your posts.
When you receive responses in the form of messages or comments, you are all set to BANG! Start selling your content.
The Methods of Selling Feet Pics on Reddit
Selling Feet PIcs on Reddit
There are two methods to sell your feet pics on Reddit. The first includes inviting and responding to your DMs to find potential clients. If a user asks for custom foot content, set up a price for it and sell it using secure but personal payment channels.
It is because Reddit is not a marketplace and does not offer transaction services. So, in order to sell your feet pics on Reddit, you must arrange and indicate the payment method to your clients. Some reliable payment services include PayPal, Paxum, CashApp, etc.
Using Reddit to Promote Your FeetFinder and OnlyFans Accounts
The second recommended method to sell feet pics on Reddit is to use the platform as a marketing tool. Promote your OnlyFans or FeetFinder accounts in your posts on subreddits (if allowed) and invite the users to subscribe to your creator accounts for spicy content.
If a subreddit restricts the promotion of your accounts on other websites in the captions or comments of your posts, then invite interested buyers in the DMs for effective marketing. You can also offer them discounts or free custom content for subscribing to your OnlyFans or FeetFinder creator accounts.
OnlyFans and FeetFinder are the most reliable platforms you can join as a foot model. They offer a smooth customer experience and ensure a safe and secure user journey. Moreover, these platforms have their own massive foot fetish user bases. So, choosing FeetFinder or OnlyFans to create your primary creator's account is a win-win situation for you.
P.S. How to Sell Feet Pics on Reddit?
Reddit is a multifaceted platform that will not only help you sell foot photos but will also educate you on the latest trends in the foot content niche. All you need to do is join appropriate subreddits and apply the correct strategies to attract members of these communities. Be responsive in your DMs and promote your feet fetish accounts on other platforms.
We hope this blog has helped you understand the tricky yet effective process of selling your feet photos on Reddit.
Sell Feet Pics on FeetFinder
You can sell Feet pics on FeetFinder and make money by getting paid subscribers, selling Feet albums, receiving a Tip from your fans, and getting custom offers. They have over a million creators selling Feet pics, and a lot of creators are making a full-time income.
Sign-up For FeetFinder
Read: How much to charge for Feet Pics?