FeetFinder Vs Feetify: What is The Difference Between The Two Feet Selling Platforms
What is the difference between FeetFinder Vs Feetify? Explaining the Difference between FeetFinder Vs Feetify in comparison to different metrics and explaining what platform is better for creators to sell their Feet pics.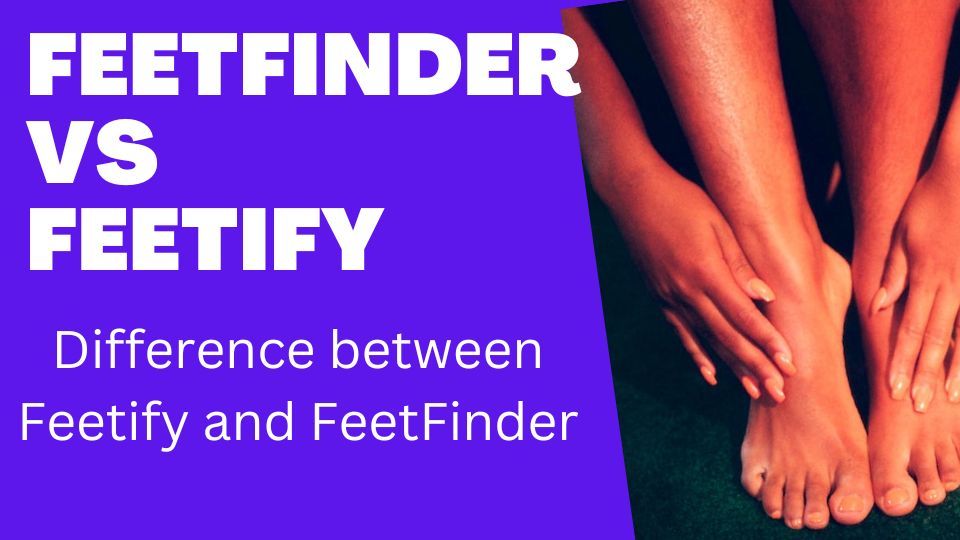 If you want to sell Feet Pics, FeetFinder, and Feetify are the platforms where Feet content creators can start selling their Feet pics and start making money. In this article, we have discussed the difference between FeetFinder and Feetify in great length.
Are you trying to figure out what the two amazing feet fetish platforms are known for? Or maybe they are the same thing?
Well, that's exactly what we'll discuss in this blog post, and why are the two platforms often considered an alternative to each other?
Difference between FeetFinder and Feetify
A few years back, I discovered the most demanded platform among feet fetishists was FeetFinder. The platform has now become one of the most lucrative sources of income for many housewives, home workers, and those looking to earn passively.
FeetFinder's success has reached a point where people consider it more like a full-time job opportunity rather than just a side hustle. Many reviews posted on rating websites introduced me to another platform Feetify which is considered the best alternative to FeetFinder.
Feetify was, in my opinion, the best service provider until I found out a few other things that outstand FeetFinder. Having said that, Feetify is still the first ever website with search engines of "feet pics," "buy feet pics," etc.
How does the platform work? FeetFinder Vs. Feetify
FeetFinder is a subscription-based platform for sellers. However, buyers can register for free. Feetify, on the other hand, offers free registration to buyers and sellers.
FeetFinder content creators can restrict their profiles to paid users only. However, you cannot create a paywall between you and your buyers on Feetify without availing of the premium plan.
FeetFinder pays through SegPay and Paxum. You can use PayPal/Venmo/Wise to get paid on Feetify.
How to sell feet pics? FeetFinder Vs. Feetify
Both platforms have similar procedures to register for selling feet pics. FeetFinder takes more time to approve an application; after that, you will have to pay a monthly subscription fee of $4.99 or $14.99 per year. You can now list your feet pictures and albums, set a subscription rate, and start promoting it.
Feetify sellers follow the same procedure, and it doesn't need ID verification. You can now upload your feet pics and videos. Interested buyers will see your collection, and those with the specialist request will connect with you through messages.
On FeetFinder, you can make money in the following ways:
You can make money by getting paying subscribers. These subscribers pay you a monthly fee to view your content.
You can upload Feet albums and sell them unlimited times.
Your fans can also leave you a Tip right from your profile or in messages.
You can also receive a custom offer right from your profile or let your fan pay for the custom order through a Tip.
Where can you sell feet pics safely? FeetFinder Vs. Feetify
FeetFinder and Feetify are safe and secure websites. Many who have experience working in this field might say Feetify is safer as it is older than FeetFinder and has developed trust over the years.
FeetFinder, on the other hand, allows users to privately sell feet pics which means no unpaid visitors can scroll through your feet pics. Secondly, FeetFinder offers safer payment methods and security setups to all its users.
User verification policy also restrains scammers from registering on Feetfinder,  which makes it a safer place to sell feet pics.
Which one is the legit platform? FeetFinder Vs. Feetify
FeetFinder is a safe and 100% legit website to sell feet pics. Despite being the new platform in the feet fetish market, FeetFinder has gained more users and positive reviews than Feetify.
FeetFinder pays its sellers through authorized payment methods, and the platform continuously checks for scam messages and cancels their accounts. All these security protocols outstand FeetFinder among all other feet fetish websites with regards to its legitimacy.
Seller premium plans; FeetFinder Vs. Feetify
FeetFinder serves its premium sellers with amazing deals and benefits they may not enjoy as FeetiFy users and vice versa.
FeetFinder premium plans offer its active users the chance to win cash awards every week for posting quality feet pics regularly on their profile. The cash awards price ranges from $100 to 1000 and more. Secondly, FeetFinder buys a few feet pics of sellers who stay active on FeetFinder's social media handles.
However, FeetiFy premium sellers can get 100% of their income with no commission fee. They can upload unlimited feet pics and connect potential buyers directly through messaging. With Feetify Premium, you can also get a chance to get yourself featured on the website homepage. Also, you can restrict what viewers can see on your profile.
Both platforms have the best premium plans, and I believe that's why they are considered alternatives to each other.
How much does it cost to sell feet pics? FeetFinder Vs. Feetify
FeetFinder charges a monthly subscription of $4.99 or a yearly subscription of $14.99. Premium sellers are charged $14.99 /month or $29.99/ year.
Feetify doesn't charge anything to sell foot pics. However, if you are interested in a premium plan, you can buy it for $49 per year.
Seller Reviews: FeetFinder Vs. Feetify
The points listed below are just the idea of what most reviews are based on.
FeetFinder seller reviews:
The best part is Feetfinder has secure payment methods. SegPay and Paxum are legit ways to get paid locally and internationally.
It's easier for feet lovers to sell on FeetFinder because you can find more niche buyers.
FeetFinder has the best security setup to prevent users from sugar daddy scams. The site immediately boycotts such users.
FeetFinder is safe and secure. You can maintain anonymity while you enjoy your sales on FeetFinder.
Feetify sellers review:  
Feetify customer support and contact forms are so conveniently available.
Feetify users are very satisfied with its onsite marketing as the platform showcases featured and activated sellers on its homepage, which significantly helps in getting sales.
The website is extremely informative and regularly maintained.
You get quick responses from customer support, and it is one of the legit websites.
Trustpilot ratings: FeetFinder Vs Feetify
Trustpilot FeetFinder ratings are beyond average. It shows a rating of 4.9 out of 5 based on thousands of incredibly amazing reviews.
Feetify has been rated 4.5 out of 5 on Trustpilot. However, the ratings are based on very few reviews.
So, based on the reviews and ratings, FeetFinder trouts to be a safer platform with bigger chances of making sales.
Is FeetFinder better than Feetify at selling feet pics?
We have done tons of reviews about it and found that FeetFinder is the top feet fetish website due to many factors(a few are discussed above). With FeetFinder, you might not be able to get 100% of your income, but you can earn in more ways from it.
Subscriptions, custom feet content, feet albums(which can be bought multiple times), and individual feet posts can help make a handsome monthly income.
Above all, FeetFinder is legit and 100% safe. It also offers authorized payment methods for its local(SegPay) and international(Paxum) sellers, again the biggest favor to all sellers out there.
P.S: FeetFinder Vs. Feetify: What is the difference between the two platforms?
The two platforms are entirely different from the registration process point of view. Feetify is free to join, whereas, FeetFinder charges a subscription to all sellers. Feetify and FeetFinder have a similar commission fee, and both are considered to be the top feet fetish websites.
Having said that, looking at many different factors discussed in this blog post, we conclude that FeetFinder is a better option for you to showcase your feet pics. Due to the huge number of its consumers, we believe there are brighter chances for you to make sales on FeetFinder than on Feetify.
Last but not least, our conclusion is not unalterable; your Feetify experience may be better than any other platform.
Read more related articles: